Bel Air Church Hosts Two Free Christmas Concerts for Los Angeles on Sunday, Dec. 9
Press Release
•
updated: Dec 5, 2018
Special guest artists come together for Christmas concerts to help people experiencing homelessness on Dec. 9, 4 & 7 p.m. at Bel Air Church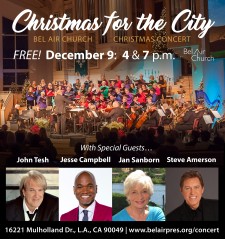 LOS ANGELES, December 5, 2018 (Newswire.com) - ​Bel Air Church (a.k.a. Bel Air Presbyterian Church), will be hosting two free Christmas Concerts for the City. Members of the congregation have stepped up to cover the cost of the concert so that 100 percent of the offering will be given to Bel Air's partner organizations that are directly addressing the tremendous issue of Homelessness. These funds will help to provide housing and care for those in need around Los Angeles so they may experience health and stability. The funds will be designated toward Bel Air's local partners (see below).
A musical celebration of Christmas for the City with SPECIAL GUEST ARTISTS:
I hope you join us on Dec. 9, at 4 or 7 p.m.! It's going to be a great evening of music and giving back! The concerts are free and open to the public. It will feature the choir, orchestra, band, and our amazing guest artists! Best of all, 100 percent of the offering taken that night will benefit organizations in Los Angeles addressing Homelessness: Anne Douglas Center, Hope Gardens, Harvest Home, and Habitat for Humanity.

Rev. Dr. Drew Sams, Senior Pastor
John Tesh, Jan Sanborn (Jazz pianist), Jesse Campbell (the Voice), & Steve Amerson (America's Tenor) join...
· The 50-voice Bel Air Worship Choir
· The 40-voice Bel Air Children's Choir
· The Bel Air Worship Band
· And a 35-member Professional Orchestra
Admission is free. An offering will be received to help address the issue of Homelessness in L.A. through our partners:
· Los Angeles Mission (Anne Douglas Center): losangelesmission.org/anne-douglas-center-for-women
· Union Rescue Mission (Hope Gardens: urm.org/services/hope-gardens)
· Harvest Home (harvesthomela.org)
· Habitat for Humanity (habitatla.org)
DID YOU KNOW?
· 52,765 people experience homelessness each day are in Los Angeles
· 46 percent of those experiencing homelessness for the first time said it was due to the loss of employment
· Only 26 percent of individuals experiencing homelessness have a serious mental illness
· 50 percent of adolescents aging out of foster care are likely to become homeless within six months
· Bel Air Church serves as a deployment site for the LA Homeless Count—join us in January!
PHOTO OP: The concert will be held in the architectural marvel that is the Bel Air Church Sanctuary with one of the best views in LA, overlooking the San Fernando Valley on scenic Mulholland Drive. If you are looking for a way to enjoy the city, while hearing an unbeatable Christmas concert, then join us at 16221 Mulholland Drive, Los Angeles, CA 90049. If you would like to give to this amazing cause visit http://www.belairpres.org/concert.
Led by Senior Pastor, Rev. Dr. Drew Sams (a.k.a. Pastor Drew) Bel Air Church was founded in 1956, and is one of the city's largest churches. Rev. Sams has been the Senior Pastor since 2014. This 37-year-old native Angeleno, USC graduate, and avid surfer and runner has brought a youthful energy and passion to this historic and Bible-based church. With his wife, Erika, and their two young sons, their hope is to continue to make Bel Air Church a family-friendly, fun place for people of all ages, stages, and walks of life to find the love of God and the help we all need. Pastor Drew loves Los Angeles and longs for BAC to be a church in the city and a campus for the city. With one of the last traditional services on Sundays in the city, the one of a kind organ and choir offer a spectacular worship experience. The Christmas for the City Concert will be an event to remember.
Pastor Drew says, "I hope you join us on Dec. 9, at 4 or 7 p.m.! It's going to be a great evening of music and giving back! The concerts are free and open to the public. It will feature the choir, orchestra, band, and our amazing guest artists! Best of all, 100 percent of the offering taken that night will benefit organizations in Los Angeles addressing homelessness: Anne Douglas Center, Hope Gardens, Harvest Home, and Habitat for Humanity."
# # #CONTACT: Rev. Kim Dorr-Tilley, Associate Pastor and Event Producer at Bel Air Church, 818-788-4200 or kim.dorr@belairpres.org
http://www.belairpres.org/concert
Source: Bel Air Church
Related Media
Tags
Additional Links