Becoming Mrs. Smith: Debut Historical Fiction That Will Tug at Your Heartstrings & Leave You Longing for More
Not all of war's destruction takes place on the battlefield.
Press Release
-
updated: Oct 12, 2017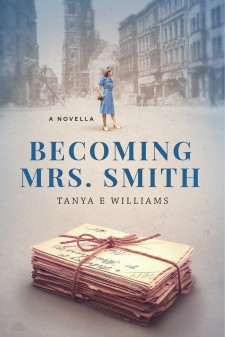 SURREY, Canada, October 12, 2017 (Newswire.com) - Rippling Effects Writing & Photography is pleased to announce the release of Tanya E Williams' debut historical fiction title, Becoming Mrs. Smith. The first of a three book series, Becoming Mrs. Smith is sure to grab hold of your heart and pull you back in time.
After nearly succumbing to a deadly bout of scarlet fever, Violet Sanderson wants nothing more than to live a simple life in Cedar Springs, South Dakota. Surrounded by her family, friends, and the farm she loves, Violet's only dream is to marry her childhood sweetheart, John Smith.
But when John decides to enlist, she must learn to overcome her fears and combat her anger as her future is pulled out from under her by a war that dominates life in Europe. As each day passes, the realities of World War II, deplete her town and her heart. Violet watches in horror as the world as she knows it, crumbles before her. Even if John returns from the war, Violet is uncertain if she will be able to survive the battle brewing at home.
Becoming Mrs. Smith is the inspiring, and at times, heartbreaking story of a woman's struggle to reclaim what she lost. War stole the man she loves, and childhood illness weakened her heart—perhaps beyond repair. While guns rage in Europe, the war Violet faces at home may be even more devastating.
"What inspires me most about historical fiction is how the circumstance and the scenery of history may change over time, but at their core, people continue to experience similar emotions from one era to another." Tanya E Williams
A writer from a young age, Tanya E Williams loves to help a reader get lost in another time, another place through the magic of books. History continues to inspire her stories and her insightfulness into the human condition deepens her character's experiences and propels them on their journey. Ms. Williams' favorite tales speak to the reader's heart, making them smile, laugh, cry, and think.
Becoming Mrs. Smith is available wherever fine books are sold (Amazon, Ingram, etc.).
Rippling Effects Writing & Photography — ISBN: 978-1775070603
​Media Contact: info@ripplingeffects.ca
Source: Rippling Effects Writing & Photography
Share:
---
Categories: Books, History, Arts and Entertainment
Tags: Becoming Mrs. Smith, Book Release, Historical Fiction, World War II
---