BECOMING A CONSCIOUS LEADER by Gina Hayden - How to Lead Successfully in a World That's Waking Up
Press Release
•
updated: Mar 21, 2017
Business has the potential to be a huge force for good in our changing world. Conscious leadership is vital to businesses that want to stay relevant and make a difference. Author of Becoming a Conscious Leader, Gina Hayden, has over 20 years' experience advising companies large and small on leading with awareness and purpose.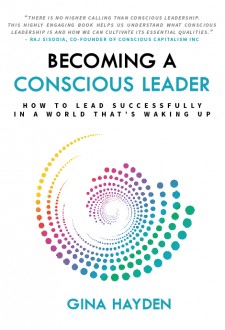 London, UK, March 21, 2017 (Newswire.com) - Gina Hayden is available for interview
BECOMING A CONSCIOUS LEADER
"There is no higher calling than to be a truly conscious leader, one who is motivated by service to people and the purpose of the organization, and not by ego, power or self-enrichment. In this highly engaging and very readable book, Gina Hayden has synthesized the wisdom of conscious leaders."

Raj Sisodia, Professor of Global Business, author and Co-founder of Conscious Capitalism Inc.
By Gina Hayden
How to Lead Successfully in a World That's Waking Up
What does it take to be a leader of the future?
There is a new breed of leader on the block, leaders who see themselves, their employees, their competition and the world differently. They are flourishing in a world that is increasingly interconnected and that demands a new approach. These leaders are Conscious Leaders.
According to Gina Hayden, "Today, business can have a higher purpose in the world than simply the act of making a profit. Business can take responsibility for its impact on the world and factor this in to the way it conducts its profit-making activities. It is the most powerful institution we have and, with the right leadership, it can have a profoundly positive effect on the greater good."
In this book you will discover:
• How to practise conscious self-mastery to enhance your leadership
• How to relate to others
• How to ensure your teams are bringing their full selves to work
• How to ignite passion and spark innovative energy
• What collaboration beyond competition can mean for your business
• How to increase your positive impact on the world
• And how to find purpose beyond profit.
Incorporating stories and practical wisdom from over 20 conscious business leaders worldwide, this book will guide you and inspire you to the possibilities of expanding your impact as a leader.
About the Author
Gina Hayden has worked with leaders across the world for the past twenty years developing their capacity to lead with more awareness, wisdom and choice. In addition to coaching executives and consulting widely in companies such PwC, AT Kearney, AlixPartners, Novartis and SCA, she is the co-founder of The Global Centre for Conscious Leadership and a Director of Conscious Capitalism UK. She is passionate about bringing more conscious and responsible leadership to business and how business can be a powerful force for good in the world.
Becoming a Conscious Leader is available at all good bookshops and online outlets in paperback and ebook
For more information, visit: https://becomingaconsciousleader.com/
Contact:
Ben Cameron
Cameron Publicity and Marketing Ltd
180 Piccadilly, London W1J 9HF
Tel: +44 (0)20 7917 9812
Source: Gina Hayden
Related Media
Tags
Additional Links