Beautyforever Online Wig Store Releases New Affordable Human Hair Wig Styles in 2021
Choosing Beautyforever human hair wigs will never let customers down.
Press Release
-
updated: Apr 3, 2021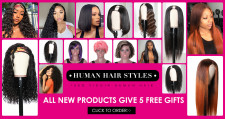 CALIFORNIA, Md., April 3, 2021 (Newswire.com) - The best hair store in the world Beautyforever brings customers an exotic range of shiny, smooth and strong natural hair wigs.
However, for the people who do not want to wear lace wigs, Beautyforever also brings an exciting option of non-lace wigs. Sometimes people might feel an itchy forehead, or they prefer to keep their foreheads clear of any sign of wigs -- for them, the best option is headband wigs. Wigs are having a major moment in the beauty industry. They've been a longtime staple for event-going celebrities looking to quickly change their hairstyle for the red carpet without damaging their own hair. But beyond the world of stardom, wigs have been gaining major steam on social media, where skilled hairstylists showcase their magic for the masses.
And just as there are many different ways to style a wig, there are many different kinds of wigs to style. Lace front wigs, full lace wigs, headband wigs, HD lace wigs — customers have options. Whether someone is a naturalist who wants to switch it up without putting stress on strands, or is simply looking for a change without the commitment, wigs are an incredibly versatile and convenient option to consider.
As with weave hair, people should care for it as well as their own hair. That said, with wigs, in particular, there are some key factors to keep in mind to extend the life of own unit. Take off custom units and store-bought wigs every night and store them on a mannequin head. If one's own wig is sewn along the hairline, however, wear a silk bonnet or scarf at night to protect the hair and keep it in tip-top shape.
Beautyforever excels in providing a range of human hair wigs, giving own hair a natural, smooth and soft look. Customers can choose to experiment with their style and choice of wigs from the zillion of options present at Beautyforever's online store. If people with curly hair that want to transform it into straight hair but have concerns about the keratin treatments to further damage their own hair, do not worry as Beautyforever allows customers to choose straight human hair wigs. Beautyforever straight textured human hair wigs are present in mainly two colors: Natural Black and Ombre or highlight color.
An additional feature to further beautify hair is the additional lace. It provides an elegant and fancy look to the hair. Moreover, Beautyforever further has three different categories in the lace: HD, Transparent, and Brown Lace. This allows the woman to choose the lace style that compliments their skin color to give the wig a perfect look.  Next, people have different choices about hair textures and hair origin. Through this Beautyforever strives to achieve maximum customer satisfaction.
Source: Beautyforever
Share:
---
Categories: Beauty and Personal Care
Tags: beautyforever hair store, hair weave, hd lace wigs, headband wig, human hair wigs, lace front wigs
---