Beauty for Ashes Designs Is Ready to Revolutionize Communication With the Launch of Their New Website, Ms. Frieda's Classroom.
Press Release
•
updated: Jun 6, 2016
Experience the wonder and excitement of seeing your loved one's ability to communicate come alive!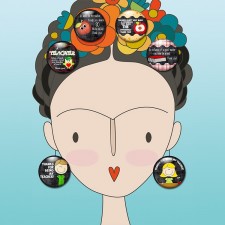 Vestal, NY, June 6, 2016 (Newswire.com) - ​​​Ms. Frieda's Classroom is pleased to announce the launch of its new website on Monday, June 13, 2016 featuring a collection of innovative communication tools.
"If a child can't learn the way we teach, maybe we should teach the way they learn." ­ -Ignacio Estrada
"These magnets are so incredibly helpful! My son has a speech delay which is leading to a lot of negative behavior out of frustration. These magnets are helping him to be able to better communicate with me, but more importantly other caregivers who can't anticipate his needs as well. The food magnets are great to keep on the refrigerator so they're generally in the same area as what he wants."

Happy Customer
By our very nature humans are social creatures. At our core, we need to connect with those around us. We do this by communicating with one another both on a physical and verbal level. However, for hundreds of thousands of people in the world that suffer with autism and other challenges they are unable to tell anyone about their most basic daily needs. The website, Ms. Frieda's Classroom, is offering innovative, fun, and colorful communication tools that will assist those with special needs when nothing else may have worked. Laurie Shoop, owner/designer, has a passionate love for education, art, and family. That passion is what has been the inspiration behind the creation of Ms. Frieda's Classroom. As a mother she would often feel helpless when her autistic son could not verbally communicate his needs, wants, or desires. This often lead to moments of despair for the entire family as they sought to understand his needs and alleviate his frustration.
Laurie searched and sought out many options and methods. There was one method that caught Laurie's attention; picture story pages sent home from her son's school. Her son would pour over them for hours until they were tattered and worn. Temple Grandin, a well known author, and pioneer in the field of autism, tells us that people with autism see in pictures (she herself has autism). Laurie knew she had to do something and so she began her journey developing a better tool.
Ms. Frieda's Classroom at its very core features durable sturdy colorful clips that will stand up to the tough wear and tear of children. The clips are color coded to make it both visually appealing for young children and to help identify different needs; food is one color, hygiene another, and daily routine activities yet another. This makes it simple and easy to tell those around them what they need without having to play the guessing game or try to have their desires anticipated. The line has expanded to include fun chalkboards, with beautiful art, delightful magnets, and more to enhance the home with original work created by Laurie Shoop. Beauty for Ashes Design is ready to bring special needs families, educators and students, and others with communication issues closer together. They are providing the tools for effective communication so that melt downs and other such issues can be avoided. This gives a voice to those who do not have one of their own. It allows them to communicate with parents, siblings, teachers, and other family through these fun and simple clips. Enroll today in Ms. Frieda's Classroom you never know what today's lesson will bring.
About Beauty for Ashes Designs
Beauty for Ashes Designs began in May of 2015, after a series of learning and growing steps for mother, artist, and entrepreneur Laurie Shoop. As a mother of 12 children, 9 of which they have been blessed with through adoption, Laurie describes herself as an avid learner and an artist. Art for her is an amazing medium of self-expression that not only heals but promotes communication. These are the foundation upon which Beauty for Ashes Designs was created. Laurie's eighteen-year-old son was part of her inspiration. As a mother of an amazing son with autism she had to experience the heart breaking moments when her son would get flustered because he could not communicate his needs and wants to her. This began her search for a way to communicate with him. She quickly found that pictures and art became an effective language that they shared. Laurie also heard from occupational therapists, ESL teachers, and those who lived and worked with elderly adults who had lost the ability to communicate that while other systems were wonderful they were not very functional. This became Laurie's passion and she began to take her artistic skills and her educational background and put them to work creating clips, chalkboards, white boards, and other communication tools for those who do not have a voice of their own. Ms. Frieda's Classroom is the culmination of over a year of hard work and a lifetime of raising children with special needs. It is a place for those parents, educators, and administrators who want to communicate with those around them who cannot always verbally tell them what they need. These are communication tools that will give rise to more well-adjusted and happy children who have their needs, wants, and desires met in a timely manner. Today is the day to pay a visit to Mrs. Frieda's Classroom to begin your lessons in communication and growth in understanding.
Contact Info:
You can contact Laurie personally at info@beautyforashesdesigns.com. She also can be followed on Instagram at https://www.instagram.com/msfriedasclassroom/, Pinterest at https://www.pinterest.com/BFA9001/, and twitter at https://twitter.com/ShoopLaurie for all the latest up to date news and sneak peeks.
Source: Beauty for Ashes Designs
Related Media