Beacon Technology Arrives in Oakdale as Innovation Initiative Rolls Out Free Hardware to Help Local Businesses
Stickman Ventures releases Request and Deployment system, begins delivering Physical Web and Eddystone beacons to businesses.
Press Release
-
updated: Oct 5, 2017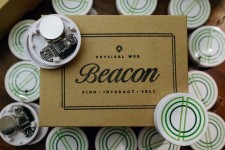 OAKLAND, Calif., October 5, 2017 (Newswire.com) - OAKLAND, Calif., October 5, 2017 (Newswire) -Stickman Ventures Inc announced today the availability of bluetooth low energy beacons free to businesses in Oakdale, California. The rollout, which will deploy 500 beacons across the city, arrives as part of the ongoing effort of Stickman Ventures Inc, City of Oakdale, and many other local organizations to release tools and resources as part of the Oakdale Innovation Initiative.
The beacons are powered by Eddystone, the open beacon format from Google, which allows local businesses to help users' devices discover content through the use of the Physical Web and provide better proximity experiences by providing a strong context to popular consumer tools such as Google Maps.
"With 9 million people traveling through Oakdale each year, beacons will allow businesses to reach potential customers in new ways without being intrusive," stated Justin Ribeiro, Chief Executive Officer, Stickman Ventures Inc. "The request system released today allows any local business to quickly enter relevant information and have a beacon provisioned and delivered to their doorstep at no cost."
The request system software, built by Stickman Ventures Inc and powered by technologies such as Google Cloud Platform and Google Chrome, is open source and available for others to use.
"It's not every day we get to build in the open," said Paul Perrone, Product Manager, Stickman Ventures Inc. "We had a great team put together some amazing tools, including two of our talented summer interns, Maria Loza and William Hutt, who built the emulator to allow business to see how their site would be represented on a device from a live beacon."
The beacon hardware rollout, which was funded by the City of Oakdale's economic development fund, is the first stage of several planned resources and tools designed to help local businesses. Expansion of the Oakdale OpenMesh, a free WiFi project started in 2013, is currently in the process of deploying additional coverage through the end of the year.
"Working with the community is an opportunity not to be taken lightly," said Ribeiro. "We are grateful to the City of Oakdale for not only being a great place to work and call home, but also continuing to invest in innovation that will help businesses grow."
To request a beacon, local Oakdale businesses or organizations can use the request system located on the web at https://requests.oakdaleinnovation.com.
Source: Stickman Ventures Inc
Share:
---
Categories: Business Technology, Regional Business News, Town and City Government
Tags: beacons, community, custom software development, physical web, small business
---