BayBridgeDigital, the Digital Transformation Company, Secures First Commitment in Series A Financing to Further Accelerate Its Growth
Press Release
•
updated: Feb 13, 2018
Investment Led by Forepont Capital Partners, Venture Capital Firm Based in New York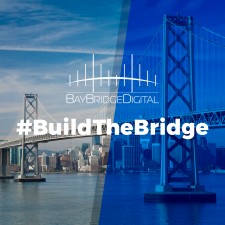 NEW YORK, February 13, 2018 (Newswire.com) - BayBridgeDigital the game-changing new company that reinvents the way brands, organizations, technology and people connect through design-driven transformation, today announced the first $6 million commitment in its multi-million-dollar Series A financing round led by Forepont Capital Partners. The investment will support BayBridgeDigital's growth.
"There's a huge gap in the market for how digital technology is designed, developed and implemented in big companies. BayBridgeDigital brings a unique approach and is filling that gap astonishingly quickly," said Mark Goldstone, CEO Freyeur & Trogue.
We help our customers drive their digital transformation to create new growth and business value faster with Salesforce and its ecosystem.

Guy Jerusalmi , Co-Founder & COO at BaybridgeDigital
"This is a great milestone for our company and we already see fantastic synergies and opportunities with Forepont investment portfolio," said Alain Attias, co-founder and CEO of BayBridgeDigital. "This is also a strong signal to the entire industry that innovation and monetization of the digital transformation are critical in this evolving market."
Founded by Alain Attias and Guy Jerusalmi, both consulting and cloud technology industry veterans, BayBridgeDigital has quickly gained the trust of leading brands to reinvent their customer journey in the retail or healthcare industry. BayBridgeDigital has assembled a team of advisors, thinkers, innovators, designers and makers from the corporate and start-ups worlds to work with companies who want to win.
"We help our customers drive their digital transformation to create new growth and business value faster with Salesforce and its ecosystem. The combination of new expertises, experiences and design-led approaches create a specific DNA and fantastic capabilities to innovate and succeed in the digital transformation," added Guy Jerusalmi, co-founder and COO of BayBridgeDigital.
"We are excited by our investment in BayBridgeDigital, a key component in our m-health ecosystem, and have already identified synergies with most of our portfolio companies," said London-based Mohamed Jamal, a senior partner at Forepont Capital Partners.
About BayBridgeDigital:
BayBridgeDigital is an innovative global consulting company headquartered in Paris with offices in New York and London and its technology hub in Tel Aviv. BayBridgeDigital helps companies in diverse industries do what they do better through an ever-evolving suite of digital transformation services including e-commerce, digital marketing, mobile solutions, business insights and analytics, artificial intelligence, Salesforce integration, software development and digital transformation.
About Forepont:
Headquartered in New York, Forepont Capital Partners is a subsidiary of the Forepont Group and manages strategic funds and permanent capital portfolios. Forepont Capital Partners invests mainly in finance, technology and life sciences.
About Freyeur & Trogue:
Freyeur & Trogue is a specialty investment bank that provides a unique combination of strategic investment, advisory and consulting to help companies realize their growth potential.
Contact:
Source: BayBridgeDigital
Related Media