Bay Area Artist/Producer Charles Xavier Presents Happy Note Records Sampler 2016 Compilation Album Showcasing Artists & Music From 20 Years of Xman Releases
Press Release
•
Oct 5, 2016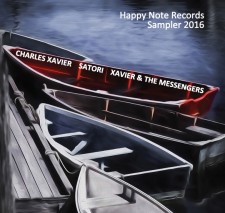 San Francisco, CA, October 5, 2016 (Newswire.com) - ​​​Charles Xavier, aka "The Xman," is a visionary producer, composer, electronic musician and percussionist based in the San Francisco Bay Area. With a work ethic matched only by his creative madness, Xavier is releasing his sixth full-length album, Happy Note Records Sampler 2016, on October 14, 2016. This powerful new compilation spans 20 plus years of The Xman's releases, featuring contributions from Satori, The Messengers, and genres including Jazz, Electronic, New Age and Ambient music. In the past 30 years, Xavier has built multiple businesses, was a key contributor to a million-dollar audio recording business, and has undertaken several endeavors in music. His own independent record label Happy Note Records is a multifaceted entertainment company promoting "Unconventional Music for Unconventional Minds."
Many of the tracks on Happy Note Records Sampler 2016 feature the industry's national and global touring talent, including Smooth Jazz Sensation saxophonist Sam Riney (Freddie Hubbard, Ray Charles, Chaka Khan), Bay Area Trumpeter Warren Gale (Joe Henderson), Virtuoso drummer Vinnie Colaiuta (Herbie Hancock, Jeff Beck, Joni Mitchell, Paul McCartney), percussionist Jackie Bertone (Brian Wilson, Stanley Clarke, Tower of Power), guitarist Barry Reynold (Grace Jones, Marianne Faithful, Black Uriah), Frankie "Blue" Sposato (Tricky, Garbage, Jamiroquai, The Rembrandts), bassists Tony Newton (Diana Ross, Smokey Robinson, Tony Williams), and Steve "Liberty" Loria (Spirit, Tricky), keyboardists Richard Larsen (Berlin, Erasure, Atomic Clock) and Hayden Clemente (Huey Lewis, MC Hammer) and harpist Carol Robbins (Billy Childs, Jose Feliciano). This project was recorded in many studios including Control Center (Los Angeles), Hit City West (LA), Skip Saylor Studios (LA), Post Logic Studios (LA), Happy Media (LA & San Bruno, CA), and Polarity Post (San Francisco).
One of the biggest gems on the new sampler is the single "The Dreamer" (Grammy 2016 1st round Nominations for Best Dance Recording and Best Instrumental Composition) from the upcoming BOSCO album planned for 2017. The instrumental showcases the Xman's latest creative direction of building fantasy electronic melodies using a Yamaha MX49 keyboard with an electronic mallet controller, along with a battery of percussive toys. The new digital FX found in the "The Dreamer" lays the musical groundwork for plans of a video and graphics trans-media backdrop for the concert tour, "From SIRI to BOSCO 2017." Activities for Charles Xavier's seventh release, BOSCO (named after his beloved 160lb Newfoundland dog) are already in motion for audiences who are drawn to electronic sounds controlled by midi or Bluetooth for expressive real-time control by the Xman.
Charles created his own independent record label, Happy Note Records, in 2005, and since then The Xman has been performing his experimental, Ambient Rock, Jazz, World Music and New Age styled music live. Aside from promoting the music and career of Charles Xavier, the label was created to become a boutique content provider and tour support/marketing powerhouse for creative artists.
Although his eclectic music defies generic categorization, the artistic demands of Jazz have always been The Xman's driving force. A jazz drummer from the age of sixteen, Xavier was born and raised in New Bedford, Massachusetts, where the East Coast jazz scene shaped and defined his musical tastes. He went on to study arrangement and composition at Berklee College of Music in Boston. From there he studied drumming at the Creative Music Studio in Woodstock, New York, with Jack DeJohnette, Bobby Moses, Stu Martin, and Jumma Santos, and also creative ensemble performance under the guidance of Karl Berger, Dave Holland, Kalaparusha, and John Abercrombie.
Xavier has released a variety of music in the years since. The Xman Cometh – Expect the Unexpected introduced The Xman as an emcee of sorts, who boldly questions the status quo. You'll hear the unexpected: thick, funky bass beats and the sweet tones of the vibraphone coupled with screaming horns and driving drum lines, with stories of sex, eroticism, politics, and street hustle. His fifth release, Perfect Mold (Best Jazz Instrumental- 1st round Nominations-Grammy 2014), features genre-fusing original compositions along with his unique spin on rock and pop classics, including "Hey Jude," "Blowing in the Wind," "The Beat Goes On," "Fire and Rain," "Eleanor Rigby", and "Leaving on a Jet Plane."
Always exploring new styles of music, Charles released Xmas Vibe in 2010, an album of eclectic and creative interpretations of traditional and contemporary Christmas songs. Called "a project deserving of a wider audience," by JazzTimes.com, Xmas Vibe features covers such as John Lennon's "Happy Xmas (The War is Over)" and the classic "God Rest Ye Merry Gentleman." Enchanting, mystical, and creatively abstract, the album takes the listener on a harmonious and melodic musical journey through a magical winter landscape with style and unusual flair. The album was released in stereo and 5.1 surround sound, possibly the only Holiday music offering available in the latter format.
Happy Note Records Sampler 2016 will be released worldwide on October 14, 2016 on all digital platforms and in select retailers across the country.
For Music Samples or to pre-order Happy Note Sampler 2016 visit: http://bit.ly/orderhappysampleritunes or the CD at http://bit.ly/orderCDamazon
Check out Charles Xavier's website for more information and touring schedule: http://www.charlesxavier.com/
Press inquiries & Interview Requests contact Billy James at Glass Onyon PR: glassonyonpr@gmail.com or 828-350-8158
Live Performance Bookings and Management please contact Happy Note Records: info@happynoterecords.com
Source: ​​Charles Xavier