BarShift Adds 'LeBron Tuesday' Promotion in Support of James' Rejected Taco Tuesday Trademark Claim
"LeBron Tuesdays" now officially a promotion on the BarShift bar promotions software
Press Release
-
updated: Sep 13, 2019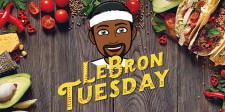 DURHAM, N.C., September 13, 2019 (Newswire.com) - BarShift, a Durham, NC-based company that serves the United States with bar event planning and promotion software, has just added its newest promotion to their extensive library titled "LeBron Tuesday" – an event formerly known as Taco Tuesday.
"A couple of weeks ago we were in a meeting and the article about LeBron's trademark request had just come out," says Mike Matsinger, founder of World Tavern Entertainment which operates BarShift. "I made the comment that there's no chance a trademark on Taco Tuesday would ever go through."
"But our lead designer said 'if anyone can get it done, it would be LeBron,' and we all agreed."
So when the news hit this week that LeBron's trademark request was denied, the folks at BarShift did what any smart promoter (and LeBron supporter) would do – they created LeBron Tuesdays.
"We love LeBron and what he has done for many communities, and we wanted to show him our support by giving him a place in our library," continued Matsinger. "Now BarShift software users can select from a traditional Taco Tuesday event or a very special LeBron Tuesday which is still all about tacos, of course."
Matsinger is planning a special in-house "LeBron Tuesday" for the office team this Tuesday, Sept. 17. The team is encouraged to wear any LeBron James apparel they may own. On the menu for lunch? You guessed it – tacos.
"Keep the fight going, LeBron. We got your back."
# # #
BarShift is the first-ever point-of-promotions software that gives bar owners the power to select, customize, and promote an amazing calendar of events in a matter of minutes.
World Tavern Entertainment (WTE), established in 2005, is one of the leading Bar Entertainment companies in the United States. We offer dynamic promotions to hundreds of bars, restaurants, taverns, and other venues to help bring more customers into their establishments.
For more information, visit the following websites:
Source: World Tavern Entertainment
Share:
---
Categories: Restaurants, Bars, and Catering
Tags: Bar Entertainment, Bar Promotions, Bar Specials, BarShift, Bigger Crowds, King James, LeBron James, LeBron Tuesdays, Taco Tuesdays, Tacos
---