Bariatric Surgery World Offers All-Inclusive Packages for Obesity Surgery in Mexican Border Areas
The leading weight loss surgery facilitator is offering affordable bariatric surgery in the Mexican border areas, including Mexicali and Tijuana.
Press Release
-
updated: Sep 8, 2017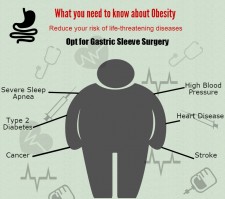 TIJUANA, Mexico, September 8, 2017 (Newswire.com) - Bariatric Surgery World has announced discounted packages for weight loss surgical procedures, including gastric bypass and gastric sleeve in Tijuana, Mexicali, and other border areas of Mexico.
Obesity has always been an epidemic in the U.S. With multinational food chains providing cheap fast food at every corner and packaged items finding their way onto the shelves in every major supermarket, it is easy to lose sight of health goals and lapse into unhealthy eating habits. But that is not the only reason for obesity.
Diseases like diabetes are a harbinger of weight fluctuations and are further accentuated by a high BMI. This leads to a vicious cycle that one cannot get out of with simple dietary changes and workout plans.
For such cases, weight loss surgery is the best option. But even though a plethora of options are available, most of the people in the United States and Canada who make good candidates for surgery cannot utilize them because of skyrocketing prices that can leave them in debt. The solution lies in medical tourism.
One of the major medical tourism hubs in the world is Mexico. For those who want top-notch medical care at half the prices of their home countries, looking into the country can be a fantastic idea.
Tijuana and Mexicali - Ideal Medical Tourism Destinations
Being border cities, traveling to the surgery centers there is as simple as driving down; this helps reduce travel costs that might be incurred for farther away locations
Crossing the border from California is easy and quick without any hassle
The Mexican culture can be experienced by spending a few days in these two vibrant cities, and one gets a chance to see famous local sites and make a holiday out of their medical trip
The low cost of living in Mexico limits the expenditure in these cities which even drives down the medical costs, making the trip financially manageable for all
The locals are friendly and helpful, making the place very safe and welcoming
Obesity Surgery Explained
A wide variety of procedures are available for weight loss patients. From gastric sleeve to gastric bypass, the aim of each of the bariatric procedures is to change the eating habits of a person anatomically, either by removing parts of the stomach or re-routing the small intestine, or both.
All these procedures are offered by Bariatric Surgery World at highly alluring prices that are easy on the wallets without compromising on the quality of medical care. 
Why Bariatric Surgery World?
A free quote can be availed through the website, which gives the prospective clients a good idea of their budgeting needs
Loan assistance is provided by the bariatric facilitator
The staff is well-trained and bilingual
The surgeons have many years of experience in their respective fields and make the procedure as risk-free as possible
Travel assistance, free accommodation, and other complimentary services make the medical tourists' stay a convenient and memorable experience
A U.S.-registered nutritionist takes care of the dietary needs of the patients
The company also has an on-site nutritionist in Tijuana to oversee their progress while on the trip
The Offer
In Mexicali, the highly affordable bariatric surgery packages have been revised to include services like free hospital stay during the recovery period for up to three nights. This helps the doctors check up on the patients regularly and monitor their progress to take note of any complications.
In Tijuana, the company is offering a discount of $500 on gastric sleeve surgery and $750 on gastric bypass surgery, respectively.
This noteworthy reduction in prices and the addition of services to the already enticing offers is a reason for medical tourists from U.S. and Canada to rejoice and head to Mexico for a transformative experience.
These attractive packages are a no-brainer for any medical tourist researching Mexican cities for bariatric surgery. One can explore the website for Bariatric Surgery World for a detailed view of their proceedings and begin the journey to a healthier, happier life.
Source: Bariatric Surgery World
Share:
---
Categories: Healthcare, Medicine and Healthcare, Medical
Tags: bariatric surgery mexicali, bariatric surgery Tijuana, gastric bypass tijuana, gastric sleeve tijuana, weight loss surgery tijuana
---