Bankrate's AdvisorMatch Tool is Now Powered by Zoe Financial
Press Release
•
updated: Jun 26, 2023
Finding a financial advisor you trust doesn't have to be a hassle. Bankrate has teamed up with Zoe Financial, a wealth platform, to deliver a one-of-a-kind advisor-matching experience.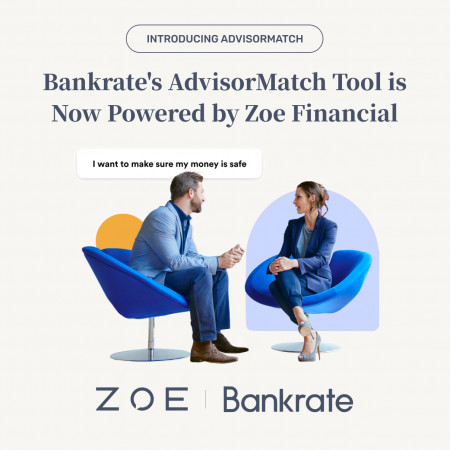 NEW YORK, June 26, 2023 (Newswire.com) - Zoe Financial and Bankrate announced today their AdvisorMatch partnership: a leading advisor matching and selecting experience that enables Bankrate's users to find, hire, and work with trusted financial advisors.
Millions of consumers visit Bankrate each month seeking award-winning personal finance content, rates, tools, and advice. The company selected Zoe Financial as an exclusive partner for its advisor matching service due to Zoe's focus on curation, convenience, and coverage. The stringent advisor vetting process and personalized matching algorithm provide a curated experience when hiring a financial advisor. Additionally, Zoe built a convenient end-to-end digital experience that turns a 60-day finding, hiring, and onboarding process into just a week. Lastly, Zoe's national network of advisors, featuring hundreds of advisory practices employing over 7,000 advisors across the United States, provides ample breadth of advisor options.
Consumers seeking a vetted financial advisor can now use Bankrate's AdvisorMatch tool to connect with their top three fiduciary advisor matches immediately. In the discovery phase, consumers complete a one-minute quiz. Zoe Financial's data-secured algorithm takes the guesswork out of finding an advisor by analyzing one's financial situation, location, goals, and preferences. Once a consumer receives their curated selection of advisors, they can explore each profile, learn more about the advisors, and seamlessly schedule consultations on their calendars. Lastly, in the hiring and onboarding stages, Zoe turned a seven-day process to open and fund accounts into a convenient digital experience that takes under seven minutes.
"Using Bankrate's AdvisorMatch, users can tap into the most stringently vetted advisor network nationwide," said Zoe Financial's Founder & CEO, Andres Garcia-Amaya. For admittance into the Zoe network, financial advisors must pass a rigorous process that evaluates their credentials and education (CFP®, CFA®, CPA), relevant experience, unbiased record and transparency, investment and financial planning knowledge, and their bedside manner. Above all, Zoe-vetted advisors must work in their client's best interest. They will never charge hidden fees or other unnecessary products and services.
What's best is Bankrate's AdvisorMatch is free to the consumer and always will be. Due to Zoe's unique business model, the service is interest-aligned with all parties. Zoe only gets paid a client referral fee by the advisor once the client has hired the financial advisor, ensuring users a delightful experience, every step of the way.
"Financial decisions can be hard and costly. There is often not a one size fits all solution. Teaming up with Zoe to power our AdvisorMatch tool enables users to find vetted advisors they can trust - allowing our users to make better-informed decisions toward achieving their financial goals," said Ian Fitzpatrick, General Manager of Investing at Bankrate.
Over the last four decades, Bankrate has maintained a credible reputation by prioritizing facts and experiences over hype and hearsay, always committed to offering its users a more relevant experience. In their mission to guide savers and spenders through the next steps of their financial journey, finding a trusted financial advisor can be fundamental for many in navigating life's biggest financial moments. "We seek to align ourselves with companies focused on empowering consumers. Bankrate has a long track record of helping people make smart financial decisions, so we are thrilled to partner with them," said Andres Garcia-Amaya, CEO & Founder of Zoe Financial.
Find a financial advisor today using AdvisorMatch. Contact Information:
Alexandra Rodriguez Correales Head of Marketing press@zoefin.com
(213) 325-6697
Address:
Zoe Financial
One Dock 72 Way Brooklyn, New York 11205 United States
About Bankrate:
Bankrate has guided savers and spenders through the next steps of their financial journeys since 1976. Whether it's rates or information on mortgages, investing, credit cards, personal loans, insurance, taxes, or retirement, the company offers various free
resources to help consumers reach their goals. From product comparison tools to award-winning editorial content, Bankrate provides objective information and actionable next steps. Bankrate also aggregates rate information from over 4,800 institutions on more than 300 financial products, with coverage in more than 600 local markets. It's why over 100 million people put their trust in Bankrate every year.
About Zoe Financial:
Zoe Financial is a wealth platform where individuals can find, hire, and grow their wealth with trusted financial advisors. From hiring a vetted advisor for wealth management to opening investment accounts instantly with their advisor on the Zoe Wealth Platform, Zoe supports individuals in reaching their unique financial goals. Growing one's wealth is tough, but Zoe makes it easy.
Source: Zoe Financial