Ballistipax First Product Debuts at Las Vegas Shot Show 2019
Press Release
-
updated: Feb 11, 2019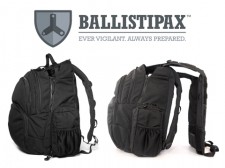 MELBOURNE, Fla., February 11, 2019 (Newswire.com) - The 40th Anniversary SHOT Show, the world's largest Shooting, Hunting and Outdoor Tradeshow, was held in Las Vegas January 22-25, 2019. More than 61,000 were in attendance perusing hundreds of exhibitors – including Melbourne's own start-up company, BALLISTIPAXTM.
BALLISTIPAXTM inaugural offering, SURVIVOR-1, is a deployable body armor backpack inspired by the random mass casualty events and law enforcement assaults that have plagued society over the past decade. Designed for practical daily use for school-age children, first responders, the military and adults alike, SURVIVOR-1 is equipped with back-to-front protection using a patented single-handed deployable armor plate that flips over the wearer's head if a threat is in the area.
The BALLISTIPAXTM concept was designed by Law Enforcement Officer Jason Holloman and developed by Melbourne Veteran David Malis. "Our motivation is simply the protection of life-and-limb from unpredictable human actions," Holloman continued. "SURVIVOR-1 can carry over 80 pounds of essential baggage, like other backpacks in general use, but the unique selling point is the easily accessible armor plate deployable with either hand in just seconds."
The introduction and reception of the SURVIVOR-1 to the market was solidly positive. "We fielded requests from distributors, military / government personnel, and had a significant response from the general attendees as well," Holloman said.
SURVIVOR-1 is the first in a series of BALLISTIPAXTM products designed to protect and defend individuals from unforeseeable circumstances – yet comfortably worn in routine settings.
For more information contact David Malis or Jason Holloman at 321.PREPARE (321-773-7273) or visit BALLISTIPAX.COM.
###
Source: Ballistipax
Share:
---
Categories: Consumer Goods
Tags: body armor, concealed carry, consumer goods, consumer products, first responders, guns and ammo, law enforcement, safety, shooting, survivalist, tactical
---