Ballet Company Producing First-Ever Prequel to the Iconic Nutcracker Ballet
Metropolitan Ballet Theatre has created a prequel to the iconic classical ballet The Nutcracker, complete with original score. This new fairytale ballet tells the back story of the Sugar Plum Fairy. The company will host a world premiere weekend March 18-20 with just five performances.
Press Release
-
Feb 22, 2016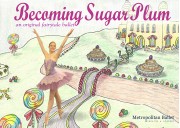 Montgomery County, MD, February 22, 2016 (Newswire.com) - ​​​​Metropolitan Ballet Theatre (MBT) has been in rehearsals since January for the world premiere of its new ballet, Becoming Sugar Plum, opening in Rockville, MD on March 18.  This fairytale, originally conceived by MBT Artistic Director Elizabeth Odell Catlett, tells the backstory of the Sugar Plum Fairy. Composer Alexandra T Bryant, Doctor of Musical Arts from the University of Maryland's School of Music, was commissioned by MBT to create the original musical score. Also, a children's storybook has been published with the same title, written by Ms. Catlett and Heather Katz.  
"This ballet is two years in the making, and it's exciting to see it coming to the stage.  We've created full-length ballets before at MBT, but never with an original storyline, new characters, and a brand new musical score, commissioned by us," says Ms. Catlett. "While not at all related to a holiday season, this storyline is really a prequel to The Nutcracker.  It details how the Sugar Plum Fairy came to rule the Kingdom of Sweets."
"Before she ruled the Kingdom of Sweets as the Sugar Plum Fairy, she was the sweet Princess Plum. One mystical dream, one dangerous journey, and one very courageous dance leads the Princess to her destiny as an admired, kind ruler.
You'll meet the beautiful fairies from Fairyland, the unpleasant King Dross and creatures from the Bitter Land, and the worried prince from the Land of Sweets. It is brave Princess Plum's fate to bring these lands together."
See her story unfold March 18-20, 2016 in Becoming Sugar Plum, an original fairytale ballet from Metropolitan Ballet Theatre.
"MBT has been a part of Montgomery County's vibrant arts industry since 1989.  This project has been a labor of love for our staff and Board of Directors over the past two years, and we're thrilled to host the world premiere here in Rockville. New fairytales don't come along often; we hope people enjoy it," comments MBT Executive Director Paula Ross.  "This is a perfect spring ballet for a family audience."
MBT performs at the Robert E. Parilla Performing Arts Center, on the campus of Montgomery College in Rockville, MD.  The performances include professional dancers, as well as student dancers from MBT's Academy.  Post-performance chats with cast members, the director/choreographer, or the composer will be held after select shows. For more information about Becoming Sugar Plum or Metropolitan Ballet Theatre, or to purchase tickets, please visit www.mbtdance.org or call 301-762-1757.
MBT is a 501(c)(3) nonprofit arts education organization located in Montgomery County, MD. MBT is supported in part by the Montgomery County Government and the Arts & Humanities Council of Montgomery County, and the Maryland State Arts Council.   
Share:
---
Categories: A&E News, Performing Arts, Dance
Tags: arts performance, ballet, dance, dance performance, fairy ballerina, maryland, metropolitan ballet, montgomery county, nutcracker, prequel
---