Balam Security Sponsors Foundation Fighting Guillain Barre Syndrome
The Guillain Barre Syndrome Foundation of Mexico and Balam Seguridad work together to help support those with the disease.
Press Release
-
updated: Feb 8, 2019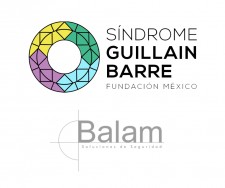 MEXICO CITY, February 5, 2019 (Newswire.com) - Guillain Barre Syndrome is a condition that affects the nervous system triggered by either a bacterial or viral infection. It causes abnormal pain or paralysis in the body due to damage in the peripheral nervous system. This uncommon disease affects 1 to 2 per 100,000 people each year. It is also known as acute inflammatory demyelinating polyneuropathy (PDIA). With so little known about GBS, it takes the medical professionals, community members, and organizations to help bring attention to the disease itself and how to help those living with it in their journey for a solution.
The Guillain Barre Syndrome Foundation of Mexico is an organization with a mission to help those diagnosed with this rare disease and offer support and information needed in a recovery journey. The foundation was created in 2017 by Valentina Treviño Portilla who is a survivor of SGB. When asked about how she views GBS Valentine stated, "Although my physical limitations may seem strong, I have never limited myself to do what I like. I love spending time with my family and my friends." Valentine currently serves as the director of the foundation as well as the founder. She has been living with GBS for 33 years and still continues to fight the battle and push to help others with the syndrome.
Affordable treatment and early diagnosis are large challenges for those living with this illness in Mexico and this foundation's vision is to provide direct support for those challenges. Not only does the foundation strive to spread information about this unpopular disease, but it also helps identify individuals who have the disease, visits patients during their hospitalization, and in some cases even support hospital expenses.
One of the largest reasons why this foundation is able to offer the services it does is due to their main donor Balam Security. This high-tech Mexican security company, which is normally in the business of facial recognition software and drones, has committed to be the primary donor to the foundation. This speaks to not only the philanthropic nature of the Balam Security but also that any company or organization can step up to help give resources for those who are fighting this rare disease. The company recently donated bulk mobility devices directly the foundation in December which included wheelchairs, walkers, and canes.
Source: Balam Seguridad
Share:
---
Categories: Security
Tags: asaf zanzuri, balam seguridad, balam seguridad privada, El Síndrome De Guillain Barre, guillain barre syndrome, La Fundación Síndrome de Guillain Barre de México, Rodrigo Ruiz de Teresa Trevino, security, seguridad, tech, technology
---