Baker Hughes Earns Top Safety Award From Nevada's Safety Consultation and Training Section
Press Release
•
Jun 20, 2023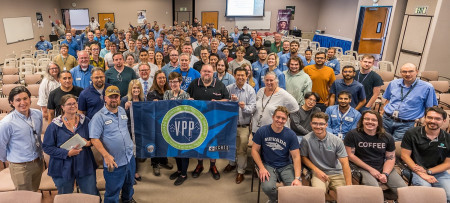 MINDEN, Nev., June 20, 2023 (Newswire.com) - The Safety Consultation and Training Section (SCATS) of the State of Nevada's Division of Industrial Relations recognized Bently Nevada, a Baker Hughes business, for successful renewal as a Voluntary Protection Program (VPP) participant for its headquarters facility in Minden, Nevada. The program recognizes employers and workers who have implemented effective safety and health management systems and maintain injury and illness rates below national Bureau of Labor Statistics averages for their respective industries.
Bently Nevada has maintained its VPP status for nearly 20 years and continues to partner with SCATS consultants, reinforcing its commitment to operating safely and responsibly in a way that takes care of its employees, customers, partners, communities and the environment.
"The health and safety of our employees and workplaces is our top priority. It is embedded in everything we do and how we work," said Angie McMillin, vice president of Bently Nevada at Baker Hughes. "The collaboration with SCATS helps increase our abilities to provide a safer workplace at our Minden facility and support our employees to actively own health and safety, advancing our ambition to make every day one with no injuries, accidents, illnesses or harm to the environment."
Participation in the no-cost program provides incentives and support to employers to develop, implement and continuously improve programs at their worksite(s). Taking these proactive measures helps businesses reduce accident costs and ensure compliance with Occupational Safety and Health Administration's (OSHA) regulations.
"Bently Nevada is part of an elite group of businesses that have achieved VPP status by maintaining proactive health and safety protocols to prevent fatalities, injuries and illnesses," said Todd Schultz, chief administrative officer for SCATS. "They are a proven leader in employee health and safety within the energy and industrial sectors. Their demonstrated history of commitment to safety puts their employees first and it's inspiring to partner with companies like this."
SCATS consultants provide employers with confidential hazard identification, program development, implementation assistance and training. Successful VPP participants are exempt from OSHA Enforcement programmed inspections.
Baker Hughes and its portfolio of businesses, such as Bently Nevada, are committed to the highest health, safety and environment standards, net-zero emissions from their operations by 2050, and supporting sustainable communities where its employees live and work. Based in Minden, Nevada, and built on 60 years of experience, Bently Nevada's innovative hardware, software and services help its clients increase safety and productivity of their industrial assets while bringing peace of mind to the world's infrastructure.
Businesses interested in VPP or other safety recognition initiatives can contact SCATS at 702-486-9140 (Las Vegas) or 775-688-3730 (Reno). For more information or to schedule free training courses, call 1-877-4SAFENV or visit 4safenv.state.nv.us.
About Nevada SCATS
The Safety Consultation and Training Section (SCATS), part of Nevada's Division of Industrial Relations, provides free and confidential consultation and safety services to assist businesses in Nevada to be in compliance with OSHA standards. SCATS helps Nevada businesses keep their employees safe and offers on-site consultation services designed to help employers recognize and control potential safety and health hazards at their workplaces, improve their safety and health programs, and assist in training employees. SCATS also offers Workplace Safety and Health Training classes in Northern and Southern Nevada. Bilingual services are also available. Visit 4safenv.state.nv.us.
Funding Statement:
The Nevada On-Site Consultation program (SCATS), at the time of initial publication of this document (5/2023), is funded by a cooperative agreement for $1,011,673 federal funds, which constitutes 27.1% percent of the program budget. 0%, or $0.00 of the program budget, is financed through non-governmental sources.
About Baker Hughes
Baker Hughes (NASDAQ: BKR) is an energy technology company that provides solutions to energy and industrial customers worldwide. Built on a century of experience and conducting business in over 120 countries, our innovative technologies and services are taking energy forward — making it safer, cleaner and more efficient for people and the planet. Visit us at bakerhughes.com.
Source: Nevada SCATS