Back to Basics - Give Thanks During Thanksgiving
Two New Games from Vertellis Allows for more Meaningful Conversation Around the Table
Press Release
-
updated: Nov 5, 2018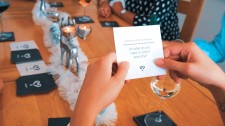 SARASOTA, Fla., November 5, 2018 (Newswire.com) - Vertellis, the Dutch-created question-card game that focuses on bringing friends and families together, has announced two new editions of the game, the Holiday edition, and the Family edition. Game lovers of other question-card based games will find this to be a more family-friendly alternative to this type of game. Vertellis is a play on words in Dutch and roughly translates to "Tell Me More." The games retail for $19.99 and are available for purchase on www.vertellis.com.
The Holiday edition has been developed to allow families and friends to have more meaningful conversations with each other during holiday dinners, especially around Thanksgiving and Christmas. By listening and paying attention to each other and asking elaborative questions, memorable moments will be recalled and created. Vertellis Holiday is perfect not just for the holiday season, but also for friends, families, and colleagues to play during birthdays, vacations, and other family gatherings.
"When we get distracted by seasonal decorations, food, and sports on TV, we tend to forget that the holidays are meant to bring families together. It is only after the holidays are finished that we wish we had spent more time with one another. This is why Vertellis Holiday has become such an important aspect of the holiday season in the Netherlands," said Vertellis co-creator, Willem Jagtman.
The Family edition was created for Parent and their Children. Kids have (almost) as many obligations as their parents with extracurricular activities, homework, and chores. The family edition reminds everyone to gather around the (dinner) table and have fun and important conversations. Recommended for ages 8+.
Source: Vertellis
Share:
---
Categories: Games and Play
Tags: board games, holidays, thanksgiving
---