Babytoys.pk is Releasing Official Rocking Jingle for Kids
Press Release
•
updated: Jun 1, 2017
Babytoys.pk launches a charming and rocking jingle for its e-commerce location about the right online place to shop baby products and toys. The online store deals in unique and high-quality imported toys for kids, and the memorable melody is to help the online store catch its audience with interesting and suitable lyrics.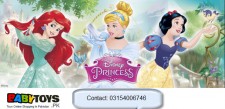 Lahore, Pakistan, June 1, 2017 (Newswire.com) - ​Online toy store Babytoys.pk is proudly releasing a jingle song. The charming musical rhythm and beat has an appeal for the kids.
Babytoys.pk takes a big step further with the launch of jingle. It is the e-commerce location offering an exclusive range of toys and baby gear for baby development and making parenting easy.
Kids supplies provided at this online portal were a great addition to the online stores with the unique collection at the kids' zone, where imported toys are presented for shopping of baby toys in Pakistan. The baby store has all kinds of toys, accessories and goods for every age. The jingle is a fun and memorable song. Fun sounds right with the music and suitable lyrics.
"Baby Toys, Baby Toys
Find Your Jumper Joy
Baby Toys, Baby Toys
Find your favorite toys
Find us online at babytoys.pk
Where Pakistan finds the best toys to play
Infant to 12 years, for girls and boys
If to talk we got what your ­child enjoys
Baby Toys, Baby Toys
Will brighten your day
Baby Toys, Baby Toys
Babytoys.pk!"
What babytoys.pk is offering
Everything that you think your baby needs is at this online store. A wide range of baby toys and baby gear is at one stop and with just an order to the consumers in Pakistan. The mindset of developing such place online is to provide facility to the parents so they do not need to move from shop to shop with their kids to select right thing. Rather, they can have the best baby products in high quality, exploring them online. It offer everything including toys for kids, boys and girls, clothing, feeding, nursery, diapers, and footwear without any hassle and in an affordable price for toy shopping in Pakistan.
Baby toys zone has action figures, electronic toys, cars, vehicles, planes and trains, building toys and blocks, learning and education toys, fun toys, indoor play games, outdoor play, tricycle, musical instruments, sports, puzzles, video games, plush toys, and more for girls and boys.
Baby planet is the right place for baby diapers, food, nursery equipment, feeding accessories, clothing, footwear, baby skin care products, and bathing accessories.
Everything for the newborn to toddlers and for the younger kids is provided online in the extensive collection. It is the place to shop stuff for the newborn to 14-year-old kids.
Play Sets and Toys for Boys
Boys are likely to have cars, vehicles, trains, planes, drones, action figures, video games, tricycles, scooters, Quad copters and other such things as per their interest. Babytoys.pk has it all that they adore. Inventive and best play sets are included to make your baby birthday surprise or celebration memorable. WWE action figures, remote control toys, Xbox games, and transformer toys are the most popular and trendy among the boys.
Girls' Toys
The traditional toys for girls are dolls, doll houses, kitchen play sets, bedroom play set, doctor play sets and dress up sets, makeup sets, home accessories and plush toys. A wide range of girls' toys features Elsa, Frozen, Barbie, Cinderella, Rapunzel and Dora, which are favored across the world. Other than the specific girls' toys, more games, learning and fun stuff can be good for the little girls.
Learning and Educational Toys
As kids grow, their learning and development is something that matters the most, and parents want to give the kids something that is healthy for them. Learning and educational toys, including scientific models, building blocks and bricks, shape- and color-identifying toys, writing boards, arts and crafts supply, magnet science, tablets learning resources, and other toy centers that make kids learn something new and good for their skills. The best sentence-building toys are only available at babytoys.pk.
Puzzles and Sports Fun
Puzzles are good to make the kids good at problem solving and finding a way out. Such sports, puzzles and involving toys for mental activity of kids are great choice. Wooden toys, building and assembling fun, tents, slides, parachutes, and activity games not only keep the kids busy in leisure time but also make them become skilled at something that is good for longer term.
Why it is the best place?
Choosing an online medium can be a concern for people. When it comes to something for the babies, the quality matters a lot, and babytoys.pk deals in quality products only. It has the safest and premium products for baby toys in Pakistan that are exclusive and imported from Amazon and USA.
Imported and best-selling international products are selected by the very dedicated team to offer the consumers the best they can have anywhere. Most famous and trusted worldwide baby gear is only provided at this platform.
Toys by top brands with the best manufacturing are solely available to you for the generations. Durable toys, safe material, high performance and maximized fun and happiness are at this online store.
If you want to buy from Melissa & Doug, Barbie, Hot Wheels, Disney, Mattel, Fisher Price, Play Go, LEGO, and VTech, you can order from here for best baby toys in Pakistan.
The subsidiary of the online store shoppingexpress.pk is also offering a platform for the online shopping of such unique and exclusive local products to the consumers. It deals in the best local brands and products by the local vendors to improve the experience of online shopping in Pakistan.
Jingle launch is the step taken to tell people that they can have the best stuff for infants and kids. Your experience will satisfy your expectation from quality and services for baby toys shopping in Pakistan.
Media Contact:
Aamir Noman
Phone: +92-3154006746
Email: sales@babytoys.pk
Source: https://www.babytoys.pk
Related Media
Tags
Additional Links