Babkes & Associates Advises on What to Do After Getting a Traffic Ticket
South Florida Based Traffic Ticket and Violation Law Firm Outlines Three Possible Courses of Action for Post-Citation
Press Release
-
Jun 16, 2016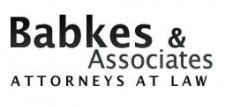 PLANTATION, FL, June 16, 2016 (Newswire.com) - ​Babkes & Associates offers expert advice on what to do after receiving a traffic ticket or violation by outlining three possible courses of action.
The firm has taken on more than a million and a half traffic ticket and traffic-related cases throughout its year existence. However, they continue to be alarmed by the amount of cases where the accused fail to do anything about the citation, causing it compound and create an even larger entanglement.
"Believe it or not, there is a huge percentage of people that fail to take any action when they get a ticket, and the traffic ticket turns into a major problem," said James Babkes, Partner and Attorney at Babkes & Associates. "Realistically, there are three options for those who have been ticketed and we are more than happy to share them."
The first option is to pay the ticket. This is the worst option, because essentially, one is admitting guilt for the violation. This will result in points assessed to a driver's license, and almost guarantees that the insurance rate will increase.
Option number two is to pay for the violation and then elect to attend traffic school. This is almost as bad as option one, because not only is one paying the ticket immediately, and paying for the cost of attending the school, but he or she is also committing to spending at least four hours of his or her valuable time in traffic school.
The third option is to fight the ticket. Attorneys from Babkes & Associates are in court every day, and they have a team of lawyers to make sure that they maintain a presence in every South Florida court, ready to defend one's case. With fees as low as $39.95, many decide that it is well-worth the peace of mind to let the experts handle it.
"Make sure whatever you do, that you do something instead of nothing after receiving a traffic ticket," Babkes concludes.
About Babkes & Associates
Babkes & Associates was established in 1978, and is focused on Traffic Tickets and Traffic-Related Offenses. The law firm's services range from assisting with Suspended Licenses, Traffic Criminal Tickets, Speeding Tickets, D.U.I, Misdemeanor/Felony, Reckless Driving, Accident Cases, and much more. With collectively over 100 years of experience in assisting clients to navigate through the complex legal system, Babkes & Associates Law Firm is fit to assist anyone throughout the South Florida area from: West Palm Beach, Palm Beach, Boynton Beach, Deerfield Beach, Fort Lauderdale, Miami, and surrounding cities. If you are in need of legal assistance regarding Criminal Charges, Traffic Tickets and Traffic Related Offenses, let the Babkes & Associates team be of assistance to you.  
For more information, call (954) 452- 8630, or request a free consultation online and save 12 percent at http://www.babkeslaw.com/contact.php.
###
Source: Babkes & Associates
Share:
---
Categories: Legal Services, Law Firms, Traffic, Legal Rights, Traffic Law, Law
Tags: Babkes & Associates, Florida Traffic Attorney, Florida Traffic Lawyer, South Florida Lawyers, South Florida Traffic Tickets, South Florida Traffic Violations, Traffic Ticket, Traffic Tickets, Traffic Violation, Traffic Violations
---