Babkes & Associates Advises on Hiring Lawyers for Legal Issues
South Florida Traffic-Related Offense Law Firm Urges Those in Need of Legal Advice to Contact Experienced Lawyers for Consultations
Press Release
-
updated: Jun 1, 2016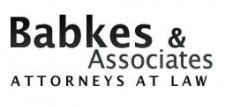 PLANTATION, FL, May 24, 2016 (Newswire.com) - Babkes & Associates, a South Florida-based traffic violation law firm, offers expert advice on the importance of contacting professional and experienced lawyers in times of need. Attorney James Babkes has spoken to people who have had or currently have legal issues and are in need of assistance, who claim to have spoken to various non-lawyers about their legal problems.
"There are many experienced lawyers who advertise free consultations, yet many people are afraid or reluctant to make a call which may actually result in the resolution of their problems," said Babkes, also a Partner at Babkes & Associates. "Lawyers possess the education, training and experience that others lack. Do not rely upon what a non-lawyer says about matters that lie outside of their field of expertise."
When Babkes and Associates provides a free consultation, they discuss the facts of the case, as well as explain to clients their options, and recommend a course of action, which is geared to the resolution of the problem. The firm specializes in traffic case defense (D.U.I., speeding, reckless driving, etc.), as well as in sealing and expunging records and more. Combined, their attorneys have handled more than 1.5 million cases in 33 years. 
Babkes offers a money-back guarantee that covers no points, no school, and no court appearances in most non-criminal and civil cases only. Among the many legal services offered is driver's license suspension-lifting within 24 hours for only $99; some restrictions apply. In addition, Babkes has a standing offer to beat any offer for legal help by $5, and a $7 discount on fees for anyone who likes their Facebook page. Online requests for legal assistance receive a 12 percent discount.  

About Babkes & Associates
​​Babkes & Associates (established in 1978) is focused on criminal, traffic, misdemeanor and felony-related offenses. The firm's specialties include assisting with suspended licenses, defending criminal traffic tickets, speeding tickets, D.U.I., misdemeanor / felony, reckless driving, accident cases, and more. They charge a flat fee and attend as many court hearings as is necessary to obtain the best possible outcome for cases.
With more than 100 collective years of experience in helping clients navigate the complex Florida legal system, Babkes & Associates Law Firm is the oldest (est.1978) South Florida law firm focusing on traffic and traffic criminal offenses and can assist anyone from West Palm Beach, Palm Beach, Boynton Beach, Deerfield Beach, Fort Lauderdale, Miami, and surrounding cities.
If you need legal assistance fighting criminal charges, traffic tickets, D.U.I., red light camera tickets, reckless driving and traffic criminal offenses, let the Babkes & Associates team represent you. For more information, call 954.452.8630, or request a free consultation online and save 12 percent by doing so online at http://www.babkeslaw.com/contact.php.
###
Source: Babkes & Associates
Share:
---
Categories: Legal Services, Law Firms, Criminal Law, Traffic Law, Law News, Law
Tags: Babkes & Associates, Babkes Law, Legal Cases, Legal Charges, Legal Issues, South Florida Law Firm, South Florida Lawyers, South Florida Traffic Tickets, Traffic Ticket Lawyer, Traffic Violation Lawyer
---