B-52s Return to Webster Hall for Special Halloween Scream Performance
Press Release
•
Sep 14, 2016
Tin Roof Rusted! Come see the B-52s rock Webster Hall on October 29th.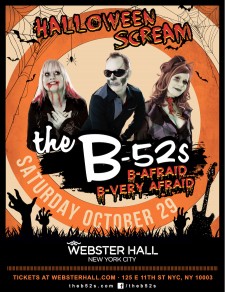 New York, NY, September 14, 2016 (Newswire.com) - Calling all "Rock Lobster" Fans! The B-52s last played The Ritz (now known as Webster Hall) in 1983. On October 29th, they return to Webster Hall for the first time in over 20 years and for the first time ever, they'll be performing "Love Shack" on stage at Webster Hall (it wasn't written yet in 1983!) along with all your favorites.
This performance will be unlike others for them since they will be dressed in spooky attire and going all out, kicking off the Halloween weekend. Come rock out to classics like "Roam", "Love Shack" and more all night long. This Halloween Weekend, join us as the B-52s please multiple generations, all singing along and shouting "Tin Roof Rusted!" in unison!
Tickets are available now at websterhall.com and for those interested in making the experience a little more special, balcony tickets are available as well.
Can't make it on the 29th? There is a ton of other great shows happening at Webster Hall this October.
10/04 - How To Dress Well, Ex Reyes
10/05 - Tom Odell, Barns Courtney
10/14 - Rhye, Cigarettes After Sex
10/18 - FAILURE – 20th Anniversary of 'Fantastic Planet'
10/20 - Okkervil River, Landlady, Lip Talk
For more information websterhall.com
Source: Webster Hall
Related Media