Azoth Wins Prestigious International Award for 3D Printing
Press Release
•
Aug 7, 2023
Azoth's innovative technology to 3D Print an extremely complex part, a Fluid Matter Exchanger, showcases how additive manufacturing can revolutionize complex, small complex parts production.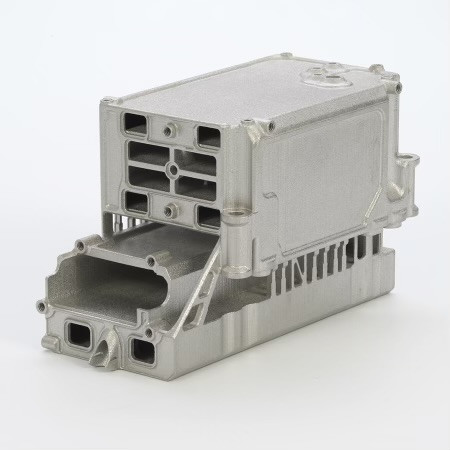 LAS VEGAS, August 7, 2023 (Newswire.com) - Azoth 3D, a pioneering force in the production-grade 3D Printing industry, located in Ann Arbor, Michigan, has just been honored with the coveted international award in the Industrial Motors/Controls & Hydraulics sector from the Metal Powder Industries Federation (MPIF). With their cutting-edge 3D printing technology, Azoth 3D is revolutionizing the manufacturing landscape and providing immense value to end users. Through their innovative solutions, Azoth 3D is leading the way in the 3D Printing industry and driving the future of manufacturing.
Azoth's award-winning Fluid Matter Exchanger is a complex part that could not be produced with traditional manufacturing processes. But with Azoth's cutting-edge 3D printing technology the part was brought to life. Made nearly 20% larger than the original design to allow for shrinkage during sintering, the Fluid Matter Exchanger's hollowed-out interior, intricate channels and internal filters make it a perfect example of the advantages of Azoth's 3D Printing technology. This innovative technology is changing the way businesses produce parts, and offers an exciting promise for the future of industry.
Mattia Forgiarini, Lead Process Engineer at Azoth, expressed his enthusiasm about the accolade and recognition:
"Receiving this award is an affirmation of the innovation, passion, and commitment we've poured into every project. Metal additive manufacturing has an incredible potential to transform industries, and at Azoth, we're proud to be at the forefront of this evolution.
"Azoth is proud to be the recipient of the prestigious MPIF award, which is a testament to the innovation, creativity and expertise of our team. Our commitment to advancing our technology and capabilities of our solutions is unwavering. Our cutting-edge technology showcases our drive to stay ahead of the competition and provide our customers with the most advanced solutions on the market. We are honored to have received this recognition from MPIF and look forward to continuing to deliver our best."
The Metal Powder Industries Federation (MPIF) is a not-for-profit association that promotes the advancement of metal powders and particulate materials as a global industry. Their annual awards recognize organizations that demonstrate outstanding design, engineering, and innovation in the powder metallurgy sector.
Azoth's remarkable success in the metal additive manufacturing industry serves as a testament to the expansive business opportunities available to companies who leverage Azoth's technology. This inspiring achievement showcases the immense potential for businesses to unlock new possibilities and create innovative products through metal additive manufacturing. Azoth's win serves as an excellent reminder of the immense potential of metal additive manufacturing and the exciting opportunities available to those who embrace it.
Azoth is creating a revolution in 3D manufacturing with the introduction of their groundbreaking TOMO® (Take One, Make One) business model, transforming physical inventory into digital, on-demand inventory. Leveraging their cutting-edge metal 3D Printing technology, along with their expertise in plastics and composites printing, Azoth is providing businesses around the globe with advanced manufacturing solutions. This is a revolutionary opportunity for Azoth's customers, allowing them to unlock their full potential in the market and stay ahead of their competition.
About the Metal Powder Industries Federation
Metal Powder Industries Federation is the North American trade association formed by the powder metallurgy industry to advance the interests of the metal powder producing and consuming industries and provides a single point of reference for all MPIF member companies.
Source: Azoth3D
Related Files