Axiom Business Book 2019 Awards Gold Medal to 'The 60-Second Sale' by Dave Lorenzo
Press Release
•
updated: Feb 21, 2019
Lorenzo's book provides a fail-proof method to help business leaders succeed in today's relationship-focused sales environment.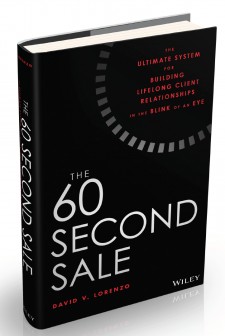 MIAMI, February 21, 2019 (Newswire.com) - Business strategy consultant Dave Lorenzo's "The 60-Second Sale: The Ultimate System for Building Lifelong Client Relationships" wins a gold medal from the 2019 Axiom Business Book Awards. The Axiom Awards, which were launched in 2007 by the Jenkins Group, were "designed to honor the year's best business books and their authors and publishers."
"I'm honored to have received the Axiom Award for 'The 60-Second Sale' and excited to have been recognized for this work," says Lorenzo. "As my book indicates, business relationships are built one minute at a time. From introduction to closing, every 60 seconds there is an opportunity to strengthen a relationship or destroy it. Business leaders and sales executives need the content this book provides to close more sales and build their revenue faster and more strategically."
"The 60-Second Sale" offers a turnkey system for developing profitable, lifelong relationships. Lorenzo gives readers insight into how to start a sales conversation in 60 seconds, who to target for immediate income, five ways to initiate new relationships, and much more. The book helps readers open doors, close deals and make more money whether they are working with affluent consumers or selling to executives in Fortune 500 companies. The book has already received some great reviews from industry leaders.
"'The 60 Second Sale' shows you how to get inside the mind of the buyer, keep their needs front and center, and help them become more successful. This makes you their natural choice. It's brilliant!" wrote Mark Roberge, senior lecturer, from Harvard Business School and author of "The Sales Acceleration Formula."
Lorenzo has an MBA from Pace University and a master's of science in strategic communications from Colombia University. He is an author, professional speaker, and business strategy consultant. He provides training and coaching to help sales executives and business leaders to develop a relationship-based sales strategy and drive revenue growth.
Lorenzo is currently offering some huge discounts and free consulting for purchasing the book. Check out his video that explains more. To buy the "The 60-Second Sale" for just $10 and receive a bonus book for free, visit GreatSalesBook.com.
About Dave Lorenzo
Dave Lorenzo is an expert on sales strategy for companies focused on business-to-business and affluent consumer segments. His award-winning "The 60-Second Sale" can be purchased at GreatSalesBook.com.
Media Contact:
Dave Lorenzo
888.444.5150
Source: Dave Lorenzo
Related Media
Additional Links