Axe Digital Tech Seeks Equity Crowdfunding to Bring New Music Technology to Market
New Music Tech Startup, Axe Digital Tech, launches equity crowdfunding campaign to bring unique product to market.
Press Release
-
Aug 9, 2016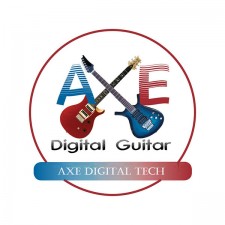 Columbus, OH, August 9, 2016 (Newswire.com) - A week ago, Axe Digital Tech officially launched its equity crowdfunding campaign and announced plans to use the capital to bring a revolutionary, first-of-its-kind product to the music tech industry, the Axe Digital Guitar™.
With three years of research and development under its belt, the startup is ready to introduce its innovative electronic musical instrument, a guitar that allows music lovers to play their favorite songs with no musical training.  Unlike other products currently in the market, the Axe Digital Guitar is not a videogame that you play along with, staying in-sync with a song, but rather a musical instrument you actually play. With 14 buttons and an electronic finger touch strum-field, guitarists can play songs their own way.
"We're incredibly excited about the launch of our equity crowdfunding campaign and the idea of bringing such a revolutionary product to the music tech market," says Axe Digital Tech Founder and Axe Digital Guitar Inventor, James Spencer.
"We've already received tremendous feedback from potential customers, lifelong guitarists and novices alike, and also gotten a lot of attention from large retailers interested in partnering with us.  We've spent years in R&D, built prototypes, and have a manufacturer ready to go. The success of our equity crowdfunding campaign will allow us to begin producing our first units, bring our product to market, and start pursuing partnerships," adds Spencer.
Axe Digital Tech's campaign launched last week on SEC-registered equity crowdfunding portal Jumpstart Micro. For a minimum of just one hundred dollars, investors can gain equity in the company and be among the first to own and experience an Axe Digital Guitar.
To learn more about this opportunity and to become one of the first investors in the new venture, visit http://jumpstartmicro.com/deal-show/id-142.html​. 
Press Contact:
Ashley DiLella
Jumpstart Micro
978-852-2835
marketing@axedigitalguitar.com
Source: Axe Digital Tech
Share:
---
Categories: Music, Investments, Consumer Electronics, Venture Funding, Fund Raising
Tags: Axe Digital Guitar, Axe Digital Tech, consumer electronics, crowd investing, crowdfunding, electronics, equity crowdfunding, guitar, JOBS Act, music technology
---