Award Winning Writer and Teacher Aaron Braxton's 'Jesse and the Caterpillar Who Got Its Wings' Reaches New Audiences
Do You Believe You Can Fly?
Press Release
-
updated: Mar 14, 2018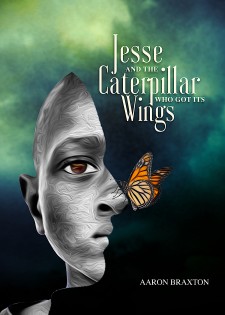 LOS ANGELES, March 14, 2018 (Newswire.com) - Have you ever felt like you didn't belong? Jesse is an intelligent, sensitive, yet socially awkward kid, who has a vivid imagination, a hard time fitting in, and desperately needs help making friends. Facing the added pressures of fifth grade, his whole world changes when his teacher brings caterpillars to class.
Find out how Jesse uses their magical shape-shifting metamorphosis – from humble earthbound creatures to graceful, winged beauties – as a lesson for life, love, tragedy, and healing in "Jesse and the Caterpillar Who Got its Wings."
Braxton, who wrote and starred in the critically acclaimed and internationally award-winning solo show, "Did You Do Your Homework?" is no stranger to social commentary about the trials and tribulations of diverse youth, growing up in urban communities, and experiencing self-doubt and transformation. "I grew up poor, in an abusive household where I saw my alcoholic father throw my mother down a flight of stairs and my manic stepfather put a lock on the refrigerator door," says Braxton. "I was told daily by my stepfather that I would never amount to anything, but I kept telling myself differently." Braxton's novel, "Jesse and the Caterpillar Who Got its Wings," is about inspiration, finding the greatness inside, and allowing it live. "I used to take profound, often painful experiences from my past and make them a basis for inspiring my students. I told them that everything worth achieving is only accomplished through hard work and perseverance and that by purposefully directing their energies positively rather than negatively scattering them, they can be far more productive. I want to continue to be an example of my convictions."
Hailing from Roxbury, MA, and growing up in Santa Rosa, CA, the former Los Angeles Unified School District educator, who holds a BA degree in Speech Communications from San Diego State University and an MA degree in Education from the University of Southern California, now calls Los Angeles his home.
"When there's greatness inside you, who says you can't fly?"
Aaron Braxton's, "Jesse and the Caterpillar Who Got its Wings" is available at Barnes and Noble, Amazon, and all major book outlets!
For more information contact: Robert Levy, Talk of the Town PR-LA, 323-546-4598, 1Talkofthetownpr@gmail.com or Aaronbraxtonspeaks@gmail.com.
Source: A.K.B. Communications
Share:
---
Categories: Arts and Entertainment, Literacy
Tags: Butterfly, Caterpillar, Chrysalis, Cocoon, Fly, love, Self-Esteem
---