AVRP Skyport Retained for Carlsbad Project
Press Release
•
updated: Aug 20, 2019
SteelWave to Reposition 2051 Palomar Airport Road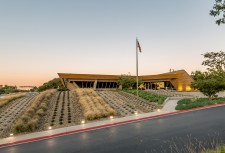 CARLSBAD, Calif., August 20, 2019 (Newswire.com) - ​​SteelWave, has retained AVRP Skyport to partner in the design of their recent office acquisition in Carlsbad, California. Situated on more than 13 acres, the property was originally developed as a build-to-suit campus for Hughes Aircraft Co. in the early 1980s. SteelWave plans to convert the 208,904-square-foot asset into a modern creative office/R&D campus.
The design concept includes exterior upgrades and improved amenities, as well as a re-branding that will both honor the property's history and embrace its future use as a creative environment for tech, biotech and creative industry tenants.
"In meeting with the leadership at AVRP Skyport, we felt there was a common understanding of how to approach innovative projects like this," commented Matt Ford, SteelWave's Vice President, A&D. "Their team's enthusiasm and horsepower have already proven crucial."
"Having known AVRP Principal Brian M Koshley AIA for years, it was great to get the chance to work together," added Seth Hiromura, Managing Director A&D for SteelWave. "With such a successful track record of real estate driven reposition projects, he and his team can only bolster our efforts in Carlsbad and elsewhere in Southern California."
At Palomar, plans are underway for a new full-service fitness center, a tenant serving bistro with indoor/outdoor seating, contemporary architecture, common areas with gaming and lounge areas, and multiple outdoor patios and workspaces. "This will be the pre-eminent creative office address for north San Diego County," said added AVRP Skyport President Christopher T. Veum, Assoc. AIA, IIDA, Design Principal for the project. "We are elated to bring our thought leadership in Commercial Office and Workplace to this opportunity."
About SteelWave
SteelWave is a full-service commercial, residential and mixed-use real estate management, operating company and investment management firm. SteelWave and its predecessor companies, Legacy Partners Commercial and Lincoln Property West, have been active in commercial real estate for 45 years. The firm has built a reputation for successful execution by sourcing sound investments in its six key markets: Northern California, Southern California, Denver, Seattle, Portland and Texas. As a vertically integrated leader in the industry, SteelWave sources, entitles, designs, finances, develops, renovates, leases, manages and sells real estate investments on behalf of many well-known institutional clients. In 2017, SteelWave brought Dennis Cavallari of The Cavallari Group (and previously a partner with Legacy Partners Residential) on board to oversee its multifamily and mixed-use development and acquisition opportunities. Since its inception, the SteelWave team has acquired, developed or managed 6,000 multifamily units, 60.1M SF of industrial product and 36.6M SF of office product across its Western United States target markets at a combined cost of over $10.7 billion.
About AVRP Skyport
AVRP Skyport develops innovative design solutions through a unique creative process that delivers memorable experiences of the built environment. Principals Douglas H. Austin, FAIA; Christopher T. Veum, Assoc. AIA, IIDA; Randy Robbins, AIA, LEED AP; Frank Wolden and Brian M. Koshley, AIA, bring award-winning experience that inspires their clients to think beyond traditional boundaries, delivering projects that put community first. AVRP Skyport is on LinkedIn and for more information, visit AVRP Skyport online. For Press Inquiries contact Kim Smith, ​ksmith@avrpstudios.com 619-704-2700
Source: AVRP Skyport
Related Media