Avila University Releases a Salary Guide for Tech Jobs
Press Release
-
updated: Apr 24, 2019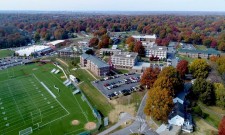 NEW YORK, April 24, 2019 (Newswire.com) - ​​​Avila University recently released a detailed infographic on getting rich with technology, which provides exclusive (insider) insight, in its tech salary guide. The tech job market is the most advanced and fastest growing market. More than its counterparts, it is expected to grow by 19% within the next decade.
In its tech salary guide, the university gave insight that even the entry-level jobs in the tech field are some of the highest paying jobs that there are. The following are considered to be the leading salaries for top-paying tech jobs.
A Full Stack Web Developer with the ability to work on the front-end and back-end of web applications, and who knows how to manage databases and storage, is expected to get about $62,955. That goes for an entry-level employee. One with experience that amounts to about 15 years, with the same vocational knowledge, is expected to have an average salary of $95,903.

A Mobile App Developer who specializes in developing applications for smartphones, including on Android and tablets, is expected to get about an average starting wage of $63,586. The average pay climbs up to about $103,880 for someone with a minimum of 15 years of experience.

For an on-desk IT Manager, a starting salary of $96,512 is the expected average wage. They are responsible for creating a wide IT system and network for a company or a firm. For an individual with 15 years of experience, the pay is about $120,472.

A System Architect who works with clients to design system-wide software is expected to earn an average wage of about $78,779. The salary tops at $128,575 for a person who has gathered more than 15 years of experience working in this tech field.

A Software Engineer who is expected to build software platforms, such as Facebook and Google, from scratch are entitled to an average starting salary of $87,315. Someone who has 15 years and above of experience is expected to earn an average salary of $122,927.
Avila University provided further insights that will allow tech-preneurs and enthusiasts to land themselves their perfect job by telling them about areas that have the most job spots available for these tech gurus. The listed areas include:
Washington D.C.: The all-time favorite and number one startup hub in the U.S., and it is ranked the third best tech city for tech-inclined startups.

Seattle: It was noted that the demand and growth for tech-oriented jobs in this city have increased to 6.7% over a period of five years.

Bay Area: The Bay Area is reported to be the most impressive city with tech growth innovations and employment. Over a period of 10 years, 90% growth occurred in its tech employment stats, along with a general rise of STEM-related jobs of about 36.5%. The figure is still growing. In the second quarter of 2018, it was reported that 7,495 new tech jobs were created and new tech employees, up to 3.5%, were produced, when compared to the first quarter.
Thus, Avila University summarized its infographic tech salary guide and the places that support tech job growth.
Source: Avila University
---
Categories: Vocational; Training
Tags: Avila University, Salary Guide, Tech Jobs
---