Aviation Safety Resources' Recovery System to Be Offered as Standard Equipment on Samson Switchblade Flying Sports Car
Press Release
•
updated: Oct 23, 2019
Companies Announce Landmark Development and Supply Agreement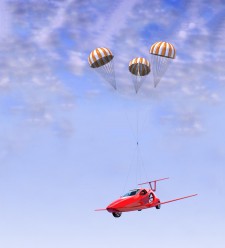 NICHOLASVILLE, Ky. and PRINEVILLE, Ore., October 23, 2019 (Newswire.com) - ​Aviation Safety Resources, Inc., (ASR) an innovative company that designs, tests and produces emergency recovery systems for the aviation and Urban Air Mobility (UAM) markets, and Samson Sky, creators of the Switchblade flying sports car, today announced the completion of a strategic development and supply agreement that will make ASR's parachute recovery system standard equipment on the Switchblade.
"Whole-aircraft vehicle parachute recovery systems will be essential to the growth of personal aerial transportation," said Larry Williams, ASR president and CEO. "ASR is very excited to offer the next generation of vehicle recovery systems specifically designed to meet the safety needs of this market. We are applying new technology, reducing the product cost and schedule risk. Our patent-pending solutions are designed to safely bring down an entire aircraft and its occupants in the event of an in-air emergency."
Under the terms of the long-term cooperative agreement, ASR's engineering and design team will work with Samson Sky to design, produce and test a recovery system that matches the unique dimensions and requirements of the Switchblade. The agreement also includes plans for Samson to purchase some 400 units annually over the next five years.
"The Switchblade is a quantum leap in personal transportation, effectively transforming the concept of mobility with a truly useful flying car," said Samson Sky CEO and Switchblade designer Sam Bousfield. "It is unique in that it retracts the wings and tail in a way that protects them while on the ground. This feature, and the fact that the Switchblade is a high-performance vehicle in both modes, sets it apart from other entrants in the race to build the first practical flying car. This agreement with ASR will set us apart even further by ensuring that our vehicles are the safest in the market."
Williams added, "We applaud Sam Bousfield's vision and Samson Sky's commitment to safety. The application of a custom ASR solution during the critical design phase of the Switchblade represents the latest safety application engineered for the complex environment in which flying cars will operate. While we cannot completely eliminate risk, we can prevent fatalities."
Earlier this year, ASR announced the introduction of its Soteria family of parachute recovery solutions for light sport, ultralight and experimental aircraft. And, last month, the ASR team won a Shark Tank-style pitch competition at the Revolution. Aero innovation summit in San Francisco. The pitch focused on the company's Xtreme Rapid Deployment (XRD) system that slows the descent of an aircraft without relying on altitude loss
MEDIA CONTACTS:
Lynette F. Viviani
973-534-1004 (Mobile)
606-212-2700 ext. 513 (Office)
lynette.viviani@aviationsafetyresources.com
Source: Aviation Safety Resources
Additional Links