AutomateWork Delivers Robotic Process Automation (RPA) and Cognitive Technologies to Improve Scalability, Quality, Accountability and ROI for Today's Businesses
Press Release
-
updated: Apr 27, 2017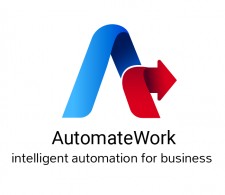 Iselin, NJ, April 27, 2017 (Newswire.com) - AutomateWork is a new entrant to the rapidly growing field of Robotic Process Automation and Artificial Intelligence. The founders, however, are no strangers to business process automation. Having previously spent decades in the IT outsourcing industry, they foresee a revolution in the traditional BPO industry and a shift away from the labor arbitrage model to an automated model driven by advances in artificial intelligence and cognitive computing. In an industry predicted to be about $8 billion in the next 5 years, AutomateWork seeks to capitalize on the lack of pure play Robotic Process Automation service providers (especially in North America). The company offers a full suite of services catering to both organizations new to RPA as well as enterprises that have already embarked on their digital workforce transformation journey.
Robotic Process Automation (RPA), Artificial Intelligence (AI) and Cognitive Platforms are known for being disruptive technologies. RPA offers better quality, scalability and more accountability. Currently prevalent in the Fortune 500 Banking & Finance and Insurance industries, the technologies are being rapidly adopted by mid-size players in these industries as well as large enterprises in others such as manufacturing, pharmaceutical, healthcare providers and hospitality.
AutomateWork provides strategy development, road mapping, productivity metrics and ROI models. Delivery teams work closely with clients to choose the appropriate RPA tools, establish governance and train staff. The company also manages, monitors and optimizes the RPA process and implements enhancements where needed. Additionally, AutomateWork has developed a proprietary set of frameworks that can be used to streamline design, management and metrics.
For organizations looking to introduce a Digital Workforce, AutomateWork offers a flexible managed service that includes strategic vision and road-mapping, development and deployment of process automation, procurement of automation software, ongoing maintenance of automated processes and an on-demand digital workforce that can be scaled up or down based on budgets and requirements.
Co-founder Ahmed Zaidi worked at a New York-based IT Outsourcing Firm, Synechron, until 2015, where he had the opportunity to experiment with RPA. Zaidi quickly saw the potential for Cognitive Technologies, especially in regards to AI and machine learning. To capitalize on this opportunity, Zaidi co-founded AutomateWork to facilitate the transition of BPO firms and support the automation industry in general.
To get in touch with AutomateWork and see how disruptive technologies can work for your enterprise, visit our website at https://www.automatework.com/ or contact info@automatework.com. 
Source: AutomateWork, Inc.
Share:
---
Categories: Business Technology, Automation, Artificial Intelligence and Expert Systems
Tags: Cognitive Technologies, Robotic Process Automation, RPA Technology
---