Author, Trauma Psychologist and Wisdom Teacher Promotes Pilgrimage Across America
Press Release
-
updated: Dec 5, 2017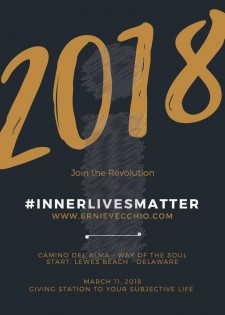 CHARLESTON, W. Va., December 5, 2017 (Newswire.com) - A pilgrimage is a time of reflection that allows one to seek meaning and purpose in their lives. Taking time away from the "noise" of daily living can be a spiritual experience. The Camino Del Alma or Way of the Soul is exactly that. Seekers wishing to cultivate their inner lives are invited. Joining them on the trail is founder, trauma psychologist, author and wisdom teacher Ernie L. Vecchio. He says: "Our inner subjective experience is a 'to be alive' force that inherently attempts to unfold as its fullest self. There is no better place to cultivate this quality than in nature."
Vecchio will arrive in Lewes Beach, Delaware, at the Cape Henlopen State Park on March 11, 2018, with the intent of hiking-biking 3,000 miles across the country. Traveling through nine States of the American Discovery Trail, he will arrive in California in late October. His message: "When we lose the confidence of our inner voice, we live in fear of it. I can't think of a more important discussion to be having with people than one that reminds our inner lives matter." He's one of a growing number of people taking to the "road less traveled" and mirroring Scott Peck's book of the same title. Peck's message was the same. It's important for human beings to look inward, something Vecchio feels we've stopped doing.
Though the Camino Del Alma does not have the religious meaning of the Camino de Santiago, Vecchio feels it will attract spiritual seekers. He says: "It is my hope that sharing this experience with others will start a conversation about life." Though hiking the trail for spiritual reasons, Vecchio also hopes to raise money for the Compassionate Studies Institute (CSI). He explains: "CSI is an educational program that offers students a psychospiritual model of the human condition."
People are also encouraged to donate to the American Discovery Trail. Vecchio hopes to make this an annual event, inviting outdoor enthusiasts and people who love hiking to cover their portion of the trail every year. He adds: "I think it is safe to say that pilgrims occupy a special realm because they step outside the culture for a moment. It's one of the few places where we can make a direct human connection and be equal."
Individuals that support #innerlivesmatter are invited to hike with Vecchio and join the conversation. He emphasizes that people don't need some sort of generalized unhappiness to take a timeout. A vacation from the mundane and routine is beneficial, even when everything is okay. "We're happier people when we can remove ourselves from the noise of everything — inside and out," Vecchio says. "You can't experience life one step at a time, the adversity of hundreds of miles, people's tenacity to endure, hear their stories and not be a different person in the end. I'm looking forward to it." Interested participants are encouraged to email innerlivesmatter@ernievecchio.com for more information.
Source: Ernie L Vecchio
Share:
---
Categories: Books, Personal Growth
Tags: hike, inner life, personal growth, pilgrimage, soul, spiritual, trauma psychology
---