Authentic 2,000-Year-Old Coins to Be Offered at the Chicago Coin Expo Held at the Palmer House Hotel April 18-21
Press Release
•
updated: Apr 12, 2018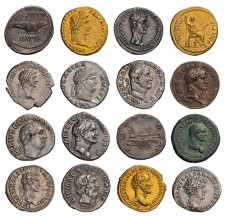 CHICAGO, April 12, 2018 (Newswire.com) - For the second year in a row, over 1,000 coin enthusiasts, collectors, history buffs and curious visitors of all ages are expected to attend the Chicago Coin Expo April 18-21 to view, learn and purchase items from more than 75 dealers participating in the event. The show brings together coin experts from around the world and will feature public auctions by both Gemini and Heritage auction houses. The show is $10 for adults, $5 for students and free for kids under the age of 12 with all proceeds going to the History in Your Hands Foundation, a federally recognized 501c3. Besides seeing coins minted over 1,000 years ago to coins minted today there will be something for everyone. Children will not want to miss the opportunity to see all the historic objects as well as the kid-friendly attractions at the History in Your Hands booth.
This year's event will not disappoint as it will be held at the iconic Palmer House Hilton Hotel just blocks away from last year's location at the Cultural Center. The Palmer House, which opened in 1873, became the nation's longest continually operating hotel. The hotel will now become the new home for the Chicago Coin Expo where the entire event will take place in one room, including the lot viewing.
Aaron Berk, a noted ancient numismatic and classical antiquity expert, stated. "We felt there was no more appropriate venue than the Palmer House to showcase the rich history, artistry and value of coins and collections and their significance to human civilization. Plus, this convenient location allows dealers and expo visitors to take advantage of the vibrant downtown scene and visit Chicago's treasured cultural attractions."
The show kicks off on Wednesday, April 18, with an early bird preview during dealer set-up ($75) opportunity at 12 p.m., followed by the first session of the Gemini auction at 6 p.m. The normal show hours will be Thursday and Friday, April 19-20, 10 a.m.-7 p.m. and Saturday, April 21, 10 a.m.-5 p.m.
For further details, visit the expo's website.
Source: History in Your Hands Foundation