Australia Wins Global 'Agrepreneur of the Year'
Press Release
•
updated: Apr 18, 2018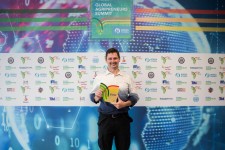 ISTANBUL, April 18, 2018 (Newswire.com) - Australian AgTech startup AgUnity has been crowned the outright winner of the 2018 Future Agro Challenge at the finals held over the weekend in Istanbul, Turkey. The event challenged the top AgTech startups from 62 different countries across 5 continents to battle it out over 2 days in a shark-tank style forum.
In a tightly contested final, Australia held out against Israel for the win.
We continue to be blown away by the support we receive from individuals and organisations, beginning with Gates Foundation but also from the likes of ADB, WFP & IFC, and now with this award here from the team at Future Agro Challenge. Once people hear our idea, they just want to get behind it and help us reach our goals.

David Davies, Co-founder and CEO of AgUnity
Sunday's victory followed an inspiring pitch by Founder and CEO David Davies, who presented his vision for improving the lives for millions of the world's poorest farmers. AgUnity provides a low-cost blockchain and smartphone solution to build trust, and enables smallholder farmers in developing nations to work together in farming co-operatives, dramatically reducing waste and improving efficiency.
AgUnity was chosen as the Australian representative selected to compete at FAC following another closely fought event held in Far North Queensland late last year, beating out FluroSat to win through to the Turkey event.
"Our idea commonly goes over people's heads in the West. The fact that we can offer a blockchain-based ledger system to small-scale farmers in developing countries and triple their income one season to the next, it sounds too simple. But that's exactly what we've achieved in our pilot projects in Bougainville and Kenya and it's all about solving a lack of trust," David explained shortly after receiving the FAC2018 award.
The AgUnity App itself allows farmers to work together in co-operatives to securely record transactions, plan farming activities, coordinate the sharing of farming equipment and manage their incomes in a digital wallet, all based on AgUnity's own secure blockchain platform. In stark contrast to traditional business models, AgUnity provides cheap smartphones and the solution to farmers all for free, only making a return after farmers have increased their income.
The smartphone app also provides a platform for farmers to purchase ethical products and services like solar lights and microloans, which farmers living in remote villages can't normally get access too. Having a way to buy products like good solar lighting that can dramatically improve their health and wellbeing is as equally important as the increased income that comes from collaboration.
David explains further, "Not charging the farmer up front is the key. When farmers are so poor, it's hard for them to spend even one extra dollar, as that might mean their children go hungry that night. So they are kind of trapped, unable to afford simple improvements that might have a big impact on their lives later in the year. Gifting them the smartphone with the AgUnity App gets them on the path to changing their lives."
"We're closing a multimillion dollar second-seed round to continue the existing pilot projects and the rollout further projects in Bali, Ethiopia, Solomon Islands, Vietnam, Turkey, and hopefully Ecuador and Colombia very soon. These startup challenges are great for the financial support they provide, but more importantly is the widespread exposure we get throughout the whole process. At every event, more and more people come to realise that changing the lives of the world's lowest income farmers is possible with the right approach."
Earlier in the event, David was also elected to represent the Participants of Oceania (North America, Caribbean, Australia and the pacific) to present to a distinguished panel of senior United Nations government and industry representatives. FAC representatives for the five regions each presented unique challenges faced by agricultural ventures in their region. David's short talk focused on the lack of risk appetite for investments in agriculture and AgTech compared to FinTech or other related tech fields. He highlighted that the conservative nature of investors in agriculture meant it was more difficult for disruptive or innovative companies to get started.
Without this early-stage support David pointed out, the agricultural industry is unlikely to see big game changers the likes of Apple, Google, or Tesla. "If we want to find that incredible innovative company that's going to change agriculture and feed the world in 2050, if we want to find that one diamond," David closed by saying, " then we must be willing to purchase a lot of rocks."
The very purpose of Future Agro Challenge is to help turn rocks into diamonds. Initially established in Greece following the GFC, FAC aims to promote global AgTech innovations and create opportunities for startups to access expertise, investment and new markets. Throughout the event, startups are able to present their ideas, talk with other businesses and receive feedback from mentors on the most pressing challenges they are facing. The winner of the event also receives a 'Genie Package' worth €100k in support and promotion of FAC global organisation, who will work with AgUnity throughout the next year to extend the business globally.
For David and the team at AgUnity, it has been a surreal journey from initially coming up with the idea of a smartphone and blockchain-based solution to help improve trust within farming co-operatives at a hackathon. That inspiration happened precisely two years ago in April 2016 and was initially just an attempt to come up with the most impressive world changing idea to win a prize.
"We continue to be blown away by the support we receive from individuals and organisations, beginning with Gates Foundation but also from the likes of ADB, WFP & IFC, and now with this award here from the team at Future Agro Challenge. Once people hear our idea, they just want to get behind it and help us reach our goals."
It appears AgUnity is striking the right note at the right time with major NGOs and investors as they seek to take advantage of an emerging technology to help a billion of the world's smallest farmers.
"Winning doesn't hurt either," David says with a relieved smile.
To learn more about AgUnity or to get in touch, please visit www.agunity.com or email media@agunity.com.
Source: AgUnity Pty Ltd
Related Media
Tags
Additional Links