Austin Mac Nab: The VizyPay Entrepreneur on Craving Success
While most kids were playing with friends, 10-year-old Austin was mowing lawns and doing odd jobs just to help his mom put food on the table. Learn how his hungering for more attitude helped him achieve success!
Press Release
-
updated: Jan 14, 2020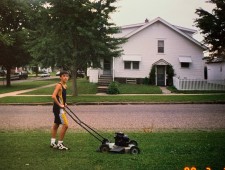 WEST DES MOINES, Iowa, January 14, 2020 (Newswire.com) - It's easy to say everybody desires prosperity, whether it's buying a home in the suburbs, maintaining stable jobs, or obtaining social status. The correlation between wealthy upbringing and success is undeniable. Growing up at the forefront of opportunity provides somebody with resources the less fortunate can't grasp with such ease. Such is life, huh? A living contradiction of this reality comes from within VizyPay itself.
Austin Mac Nab's story begins with a mother and son in California. Austin's parents divorced when he was five years old. With his father was away in the Marine Corps, he moved to Iowa with his mother. Although she worked six days a week, their small family struggled to put food on the table and Austin was forced to become self-sustaining at a very young age. The ten-year-old's first income came from multiple odd jobs, such as dragging a push mower around his Cedar Rapids neighborhood offering to cut people's grass, and selling his mother's homemade egg rolls door-to-door every night until well after the sun went down (of which every penny he gave right back to her).
Austin's mother immigrated to the U.S. from Vietnam so her language barrier left her at a disadvantage, and she was therefore very dependent on Austin's ability to help financially. They eventually moved back to California to be closer to family, and Austin began selling candy in San Diego neighborhoods with a group of fellow 13-year-olds. Austin learned to be a successful salesperson by exhausting any persuasion tactic he could until his entire bucket of candy was sold. He did this daily, not satisfied until his empty-bucket goal had been met. He says this constant "hungering for more" attitude is the difference between being mediocre and being exceptional, and he encourages this mentality among his colleagues and family today.
Learning independence at a young age, he moved out of his mom's house at seventeen and returned to Iowa, where he first entered the credit card processing industry. He was immediately successful within the industry, and was persistently a top salesperson, breaking numerous records. After eleven successful years, his attitude of always craving more sparked him to start VizyPay in 2017. This was motivated by the realization that businesses were being taken advantage of through hidden fees and complicated programs. Austin's honest business model has been a breath of fresh air in an industry notorious for being complicated and deceitful, which has led to instant success. Austin used the knowledge he'd learned throughout his life – gratitude, ambition, dedication, and hunger- to build himself and VizyPay from a molehill into a mountain.
Full story: ​https://www.vizypay.com/blog/the-vizypay-entrepreneur
Amy Hayes
Marketing Director 
ahayes@vizypay.com
Source: VizyPay
Share:
---
Categories: Entrepreneurship
Tags: Business, Business Owner, Credit Card Processing, Entrepreneur, Entrepreneurship, Hustle, Inspirational, Leadership, Merchant Services, Success, Success Story
---
Related Files
Additional Links