Aulder Capital Delivers Transparency With Technology
MREN Technology Helps Aulder Capital Deliver Transparency
Press Release
-
updated: Mar 13, 2017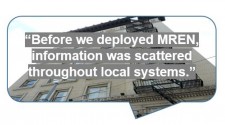 Rancho Santa Fe, CA, March 13, 2017 (Newswire.com) - Aulder Capital, formerly known as BZ Investments, was looking to improve engagement with investors, specifically, post asset acquisition and needed a solution to better institutionalize their information. With the desire to break free from the perception of a traditional slower-moving investment property company, Aulder looked to the future of real estate to see how to best meet their needs. Several platforms offered partial solutions, but only one ensured ongoing connectivity with a promise of providing a smooth investor centric user experience. The utilities found on the MREN platform surpassed current competitors offerings and Aulder was able to leverage the easy to use functionality for a technologically savvy transformation.
The real estate investment firm was focused on expanding their value-add investment strategy, and Aulder knew that technology was key in mindful management and investing in their platform.
"Before we deployed MREN, information was scattered throughout local systems," recalls the principal, Jonah Bamberger. "The solution has brought all that knowledge into one place."
The business results are a solidified network of Aulder's investors and a stronger ability to maximize the management of properties. MREN enables transparency of all deals at any given moment and investors can access their deal information at their convenience. Aulder's dedication to responsible investing and their proven track record is highlighted through the use of the MREN platform and will pave investor expectations for other real estate investment management firms. Aulder Capital plans to enhance their communication and collaboration effort via MREN to drive efficiency and expedite their growth.
Learn more about Aulder Capital's value-add investment strategy, here: www.aulder.com
Learn more about the changing landscape of technology in CRE, here: www.mren.com
Source: MREN
---
Categories: Business Technology, Real Estate, Real Estate
Tags: Aulder Capital, investments, MREN
---