August 28 - Rainbow Bridge Remembrance Day Created to Honor Memories of Pets Who Have Passed On
Press Release
•
updated: Aug 21, 2015
With so many people holding cherished memories of beloved pets they have had to say goodbye to, August 28, Rainbow Bridge Remembrance Day is a special day dedicated to honoring those memories worldwide.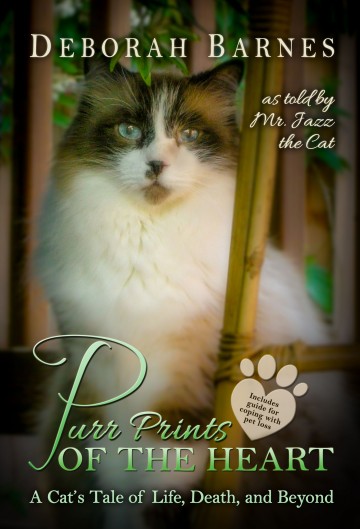 Coral Springs, FL, August 21, 2015 (Newswire.com) - ​​​​​​​Award-winning blogger, author, and CEO of ZZP Publishing LLC, Deborah Barnes, announces first annual "Rainbow Bridge Remembrance Day" on August 28 as a special day for pet guardians to honor the memory of cherished pets who have passed on.
With estimates from the American Pet Products Association that over 62% of American households have pets – some 80 million dogs and 96 million cats – along with other fur, finned, scaled, and feathered creatures, Barnes, who has had a parade of cats, dogs, rabbits, and guinea pigs her whole life, understands all too well that they are far more than just pets – they are beloved family members that can often live for 15 years or longer, depending on the breed and species.
Since pet guardians typically have a much longer lifespan than their companions, letting go is inevitable and saying goodbye can be one of the most painful experiences a pet guardian will ever go through, and that is why she decided to create a special day dedicated to honoring the memories of those lost pets worldwide.
Calling it "Rainbow Bridge Remembrance Day," Barnes chose August 28 in tribute to her Ragdoll cat, Mr. Jazz, who she had to say goodbye to on August 28, 2013. She shared the journey of his loss in her most recent book, Purr Prints of the Heart - A Cat's Tale of Life, Death, and Beyond, a warm and heartfelt meow memoir written in the wise and comforting voice of Mr. Jazz himself as he narrates his life and death journey to offer guidance and understanding through a cat's perspective as to why sometimes letting a pet go can be the greatest gift you give them.
Barnes already knew from the feedback she got from readers of her popular blog, Zee & Zoey's Cat Chronicles, where she briefly shared her experiences after losing Mr. Jazz and the range of emotions she felt after his death – from guilt, to anger, to denial, and more - that she was not alone in her feelings of intense pain and grief. This prompted her to write and publish Purr Prints, but she admits she "was in no way prepared" for the outpouring of support and understanding she would receive from readers telling her how much the book helped them to process their own feelings of grief from pets they had lost.
It was a result of that outpouring that she knew an outlet was needed for people - whether for one pet, or many pets, to talk about that loss in a safe and loving forum. Barnes created a special event page on Facebook so that on August 28th people will be able to pay tribute to that pet (s) in any way that feels most comfortable to them, such as by posting a picture, writing a poem, or sharing a favorite story or memory. Barnes hopes this will become an annual event and rather than it being a day of sadness, she wants it to be "a celebration – a time to remember those pets we have lost with love and happiness – for however long or short their time on this earth was."
To participate in Rainbow Bridge Remembrance Day, please go to Facebook at https://www.facebook.com/events/738793802913708/
Deborah Barnes resides in the tropical paradise of South Florida with her fiancé and feline family of seven. She is the author of the 5-star rated books, The Chronicles of Zee & Zoey – A Journey of the Extraordinarily Ordinary and Purr Prints of the Heart – A Cat's Tale of Life, Death, and Beyond as well as the award winning blog, Zee & Zoey's Cat Chronicles that continues to cover the everyday journey she shares with her cats along with topics from the humorous behaviors of cats to very serious subjects on pet responsibility. Deborah was awarded 2013 "Writer of the Year" by Friskies Purina on behalf of the Cat Writers' Association and she is also the Secretary of the nonprofit, Pawsitively Humane, Inc. of Miami, Florida, whose mission is to create public awareness and reduce the numbers of animals on the streets and in shelters through an extensive educational campaign.
Contact Information:
ZZP Publishing
Deborah Barnes
954-993-8253
info@zzppublishing.com
Website: www.zzppublishing.com
###
Related Media