Augmented Reality Brings New Personalised Kids Book to Life, Right in Front of the Reader's Eyes
Press Release
-
updated: Nov 11, 2016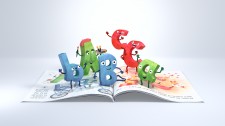 Mass customisation kids brand Tinyme has just launched a fully personalised, augmented reality kids book, The Amazing Alphabet.
It's beautiful, it's educational, it's professionally printed, (and it's just pretty dang cool).
Tinyme is a design, software development and manufacturing studio solely focussed on mass customisation.
Tinyme is run by 3 dads (who have 15 kids between them).
Tinyme has grown purely organically from 1 person startup to 50+ team with separate business in Australia, US and UK.
Melbourne, Australia, November 11, 2016 (Newswire.com) - The Amazing Alphabet is a beautiful, keepsake book that's uniquely personalised and custom printed for each child, however, it also contains hidden educational super powers. By hovering over the book with the free accompanying app the characters jump out of the page in 3D with music and sound effects and get up to all sorts of fun stuff. The app can read the story to the child and allow them to engage with the printed page in a truly amazing way.
"As a Dad of 6, I've spent 100's & 100's of hours reading books to my kids, encouraging them to have a deep love for reading. I've also spent quite a bit of time playing around with a bunch of pretty cool kids apps. As someone who founded a studio which writes, illustrates, develops software and even physically prints personalised books for kids, I'm really excited by what our team at Tinyme has now created," said Mike Wilson, Tinyme founder.
In the story of The Amazing Alphabet your child sets off on an adventure to help Little z find his perfect friend. Along the way they meet all the colourful characters of the alphabet and make a whole bunch of new friends. While it's an educational book and lots and lots of fun, it's essentially a story about friendship.
"We've always loved how kids get so excited about having a book written and illustrated specially just for them, but a personalised book just for them that pops to life with music and animation that you can engage with, now thats really, really special," added Wilson.
www.tinyme.com/the-amazing-alphabet-book
www.tinyme.com/press
Source: Tinyme.com
Share:
---
Categories: Books, e-Commerce, Entrepreneurship, Educational Technology, Games and Play, Toys
Tags: Augmented Reality, Kids book, Mass Customization
---