Auctus Experts Beta Launch: A Transparent Crypto Investment Platform
Press Release
-
updated: Oct 11, 2018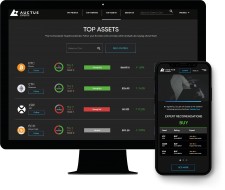 NEW YORK, October 11, 2018 (Newswire.com) - Auctus is proud to announce the release of Auctus Experts, a platform which brings transparency into cryptocurrency investing by enabling users to track industry Experts' trading performance. Auctus Experts ranks all Experts' trading performance, allowing investors to make an educated decision on which Expert to follow and determine which cryptocurrency is ripe to buy, sell, or hold.
Auctus Experts is the first portion of the cryptocurrency retirement focused investment platform. The idea of Auctus Experts is simple: users follow Experts who signal which cryptocurrencies they're buying, selling, and holding. All the trading performance of an Expert is tracked and available to all users of the platform. Experts are ranked on parameters such as average return, amount of advice given, and success rate, all of which enable users to make educated decisions on which Expert to follow and which asset they should be investing in.
Making educated decisions on investing should be clear, but when it comes to cryptocurrency investing, that's just not the case. Cryptocurrencies are supposed to be all about transparency, but when it comes to actually investing, there's a lack of it. This sparks the concern of who to trust when there's no transparency industry-wide. Chief of Strategy at Auctus, Vinicius Melo put it simply,
"There was no transparency in cryptocurrency investing. People were paying for signal calls when they had no idea who was calling the signals or if they even had any trading experience at all. Crypto investing was like the wild west."
Before, what seemed like the best option was to join paid Telegram or Discord groups that claimed huge returns to users but with nothing backing up their claims. Without a trusted and transparent platform that showed users the track record of the one calling the signals, the users were at the mercy of the traders. Auctus set out to address this problem with creating a transparent resource for investors to turn to.
Auctus Experts puts the control back in investors hands by providing a platform that ensures cryptocurrency Experts are transparently tracked and rated, thus giving users the power of making an educated decision on who to follow and where to put their hard earned money. The platform isn't just bringing cryptocurrency investing out of the wild west, it's taking it one step further than traditional investing by adding true transparency.
Becoming an Auctus Expert or User
Auctus is striving for a diverse range of Experts and users for the platform, so anyone interested is encouraged to apply. Furthermore, a lucrative bonus program has been put in place for Experts as well as users to help build the Auctus community. The available bonuses are to be paid out in the platform's native token, AUC. The bonuses are structured as follows:
Referral sign up bonus - Receive AUC tokens for each onboarded user
Fast Start Bonus - Sign up 5 users within the first 30 days of sign up and receive additional AUC per user
Monthly bonus for top 3 Experts with the largest increase in followers
Monthly bonus for top 3 performing Experts
Auctus encourages users to send constructive criticism and feedback on the beta from users and Experts alike, so get in touch with Auctus at contact@auctus.org, Twitter or Telegram. Also, for in-depth updates, you can follow the Auctus blog.
Source: Auctus
---
Categories: Cryptocurrency
Tags: bitcoin, blockchain, cryptocurrency, finance, investments, market, millennials, money, profit, retirement, stocks, trading
---