Attorney Rick Seymour Named Top Lawyer by Washingtonian Magazine
Press Release
-
updated: Feb 13, 2018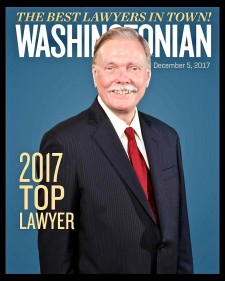 Washington, DC, February 13, 2018 (Newswire.com) - Attorney Richard T. Seymour has been named among the 2017 Top Lawyers in the District of Colombia by the Washingtonian magazine. This award specifically recognizes Rick for his work representing plaintiffs in employment law cases.
Washingtonian compiles its yearly list of Top Lawyers in Washington DC based on the votes of lawyers in the area who previously received recognition of their work. This list is highly vetted and includes those lawyers whose efforts stand out to other legal professionals. Defense attorneys as well as plaintiff's attorneys provide their feedback. Rick Seymour often collaborates with other attorneys or offers counsel on difficult class actions and litigation. Thus, his work in employment law has gained the respect of his peers and colleagues. Like many of the Top Lawyers in Washington, D.C., Rick Seymour handles cases both locally and across the country.
About Attorney Rick Seymour
Rick Seymour's legal career spans almost 50 years, and he has spent the majority of that time representing plaintiffs in class actions, including civil rights and employment law class actions. He also previously worked for Liegff, Cabraser, Heimann & Bernstein LLP, the Lawyers' Committee for Civil Rights Under Law, and the U.S. Commission on Civil Rights. He continues to influence employment law through his publications and speaking engagements, and frequently advises other attorneys on their own class action and employment cases. He also sometimes acts as an expert witness on the fairness of settlements of employment class actions and collective actions.
Rick Seymour's primary focus is on nationwide employment law, and civil rights law, and appellate practice. However, he is also a mediator and arbitrator for commercial, employment and health disputes. He has experience with many complex litigation issues, even outside employment law. His inclusion in the Washingtonian list of 2017 Top Lawyers recognizes his career as an attorney and influencer in the legal field in Washington DC.
For more information, please see his litigation website, https://www.RickSeymourLaw.com, or his ADR website, https://www.SeymourADR.com. 
Source: Law Office of Richard T. Seymour, P.L.L.C.
---
Categories: Legal Services
Tags: Alternative Dsipute Resolution, Litigation Lawyers, Top Lawyers in Washington DC
---