Attention Fashion-Savvy Puppy Mamas! Finally, Style That Extends to Your Furry Best Friend
Press Release
-
updated: Aug 1, 2017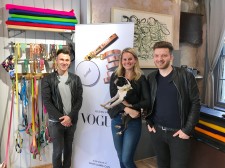 SAN FRANCISCO, CA, August 1, 2017 (Newswire.com) - SAN FRANCISCO, CA, August 1, 2017 (Newswire) - Puppy Mama, Inc, a pet tech community platform, announced strategic e-commerce partnerships with London pet fashion brands Teddy Maximus and Lurril.
Canine couture has been around for thousands of years. Archaeologists have even discovered dog collars in Egyptian tombs dating from 3,300 BCE1.
Today, the rise of Pet Tech and advances in mobile and social technology, have created new channels and experiences for savvy dog moms looking for the perfect accessory. Pet Tech venture Puppy Mama, Inc is focusing on women who love their furry best friend. Their vision is to grow a list of curated products and services that these style-conscious women want. The Puppy Mama web app also builds a sense of community. By bringing the community together with reviews, advocates for pet access and a more pet-friendly world.
Puppy Mama founder Theresa Piasta was inspired while walking her cavapoo (Waffles) around her sunny bay side neighborhood in San Francisco. "Dogs are everywhere in San Francisco. I've had so much fun talking with thousands of amazing women who love their dogs - and when these stylish dog moms buy accessories for their furry best friends, they want the look to be an extension of their style - what they would buy for themselves."
Piasta added.  "A survey of 3,000 women by Gocompare.com found that [on average] a woman will spend $25,000 buying 469 pairs of shoes in their lifetime. Apply this need for variety to trendy dog leashes, collars, and accessories and you create an entirely new market opportunity. That is why I'm so excited to be partnering with two of the top London pet fashion brands. Both Lurril and Teddy Maximus have perfectly married the style that women want with the functional leashes, collars, harnesses, and carriers that they need day-to-day."
Zolie co-founder of Lurril shared: "With years of experience making luxury leather goods for human folk, we knew we could create something just as luxurious and equally as stylish for our four-legged friends."
Holly Simpson, Founder of Teddy Maximus shared: "We are delighted to bring our fun, luxury, British style to sassy Puppy Mamas across the globe. We understand there's nothing better than taking your pup wherever you go and our range of accessories enable you to step out in style! Together the craftsmanship of our collections comes together to create something special."
"Holly at Teddy Maximus and Zoli & Ryan at Lurril are wonderful and I'm excited to bring their beautiful pet fashion accessories to the Puppy Mama community."
About Lurril
​
Every dog owner wants the best for their treasured canine. Here at LURRIL we're no different. Our story began with the arrival of lovely Luca. Immediately we knew that our beloved bow-wow deserved a collar, harness, and leash that were as comfortable and durable as they were functional.
With years of experience making luxury leather goods for human folk, we knew we could create something just as luxurious and equally as stylish for our four-legged friends. Enter, the designer-doggie LURRIL range. Handmade in London using lightweight, high-quality cowhide leather and gorgeously soft 100% wool felt, our collection of dog collars, leads and harnesses are available in a wide range of colors and designs.
​
Follow Lurril on Instagram @Lurril
About Teddy Maximus
​
Teddy Maximus was inspired by the arrival of Holly's Miniature Dachshund Teddy. Teddy Maximus creates fun, luxury, British dog accessories for the stylish dog owner – as seen in British Vogue, Conde Naste Traveller and Tatler to name a few.
They understand there's nothing more blissful than sinking into a wonderfully comfy bed. Not only do they have the perfect place for pups to catch some ZZZs (and maybe a dream squirrel or two), but they also offer famous dog carriers, luxury leads, collars, harnesses, neckerchiefs, dog toys and bow ties - the product of choice for stylish owners, lifestyle press, and bloggers.
Production takes place across the UK by the finest Craftsman. Together, the craftsmanship of the various elements come together to create beautiful accessories for every kind of pup from Dachshund to Great Dane! Follow them on Instagram @teddy_maximus
About Puppy Mama
Puppy Mama, Inc leverages technology to connect a vast community of women who passionately love their dogs and together advocate for a more pet-friendly world.
The Puppy Mama global web app helps dog moms around the world to connect with one another, effortlessly schedule fun meet-ups, share their stories and rate businesses according to a 5-paw rating to help create a more dog-friendly world. Check out our new store and join us at https://app.puppymama.com!
Media Contact: 
Theresa Piasta
Email: woof@puppymama.com
Source: Puppy Mama, Inc., Teddy Maximus and Lurril
Share:
---
Categories: Internet and e-Commerce, Retail Technology, Social Media, Fashion, Pets, Information Technology
Tags: dog accessories, dog bags, dog beds, dog carriers, dog coats, dog collars, dog fashion, dog harnesses, dog leashes, pet couture, pet fashion, pet industry
---