Atronia Innovations Launches Smart and Mess-Free Pet Grooming Device Powered by Air-Touch Technology on Indiegogo
Using air-touch technology, Groomrade allows pet families to have a clean place and a mess-free at-home pet grooming experience
Press Release
-
updated: Oct 11, 2018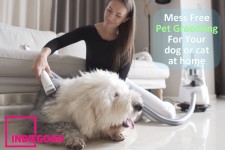 LOS ANGELES, October 11, 2018 (Newswire.com) - A new pet grooming device from Atronia Innovations using innovative air-touch technology is being launched today on Indiegogo, at https://igg.me/at/groomrade/x, offering pet families an easy solution to enjoy their time with their dogs and cats but without having the usual nuisance of seeing their homes becoming filled with dog and cat hair, and without the usual expensive pet grooming bills.
Groomrade is a wind-powered pet grooming tool for all dogs and cats developed by Atronia Innovations, which has developed patented air-touch technology that ensures that any non-skilled person can comb, trim and groom her dog or cat's hair in a way that looks professional, creates perfect cuts, is suitable for all dog breeds' coats and fur types, and vacuums every hair that falls off during the grooming experience.
"First of all, we created Groomrade to allow pet families to have the best of both worlds: spending time with their beloved pets while keeping them perfectly groomed and also while keeping their places clean, with no pet hair flying around, with the added bonus of saving on pet grooming bills," stated Ming Chen, the executive director of Atronia Innovations.
"At the same time, professional pet groomers and grooming businesses can rely on Groomrade for a much swifter grooming service. They will be able to groom dogs and cats in a gentle, fast and extremely efficient way, given that they will save a lot of time and resources on cleaning up after each session," Mr. Chen said, referring to the fact that Groomrade vacuums 98 percent of the hair of the pet that is being groomed. The device also allows pet families and pet groomers to use it as a specially designed vacuum cleaner to keep homes or businesses cleared from any lost hair that becomes hidden in corners that are difficult to reach.
Groomrade is inspired by aircraft turbo engines, replacing the conventional electronic clipper's complicated mechanism with a minimalist design driven by wind. Groomrade sucks in and cleans up all the hair while the motor is functioning. This means that the device is powered by wind, which is a natural and healthy solution to keep pets groomed and homes clean, and it also comes with four special layers of filters that not only filter the floating hair during the grooming process but which also help reduce PM 2.5 microparticles in the air. 
For dogs and cats, Groomrade has another feature that is intended to offer them a friendly grooming experience. The motor is located in the canister and designed to be quieter in order to avoid any noises that could make dogs or cars nervous during the grooming experience.
 
The campaign at https://igg.me/at/groomrade/x is seeking to raise $20,000, and it is offering backers on Indiegogo early and discounted access to Groomrade in exchange for their support.
Photos of Groomrade are here, and a video explaining the concept of the device and how it works is available in four languages on YouTube at  https://youtu.be/r3fEDIzsQCU.
For more information, please visit https://igg.me/at/groomrade/x or contact Ming Chen, executive director of Atronia Innovations, at info@innotronia.com.
Source: Atronia Innovations
Share:
---
Tags: cat lover, cats, dog care, dog grooming, dog lover, dogs, pet care, pet grooming
---