ATP Flight School Opens New Airline Pilot Training Center in Los Angeles
Press Release
•
Jul 20, 2023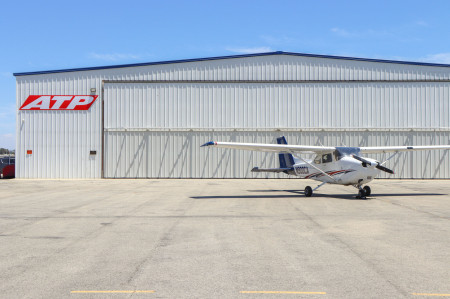 LA VERNE, Calif., July 20, 2023 (Newswire.com) - ATP Flight School, the nation's leading provider of airline pilots, has unveiled a new airline pilot training center opening at Brackett Field in La Verne, CA. The location marks ATP's 83rd training center nationwide and third in the Los Angeles area, with locations established at Long Beach and Riverside.
With over 15,000 sq. ft. of training space and on-site aircraft maintenance, the new facility is poised to play a strategic role in scaling ATP's Southern California operations to meet the nationwide demand for airline pilots. The increase in training capacity is paired with recent orders for new airplanes, with 80 Piper Archers and Cessna Skyhawks being delivered through 2024. Featuring Garmin G1000 NXi electronic flight decks, these aircraft provide students with the latest in glass cockpit technology as they prepare for their airline pilot careers.
Students in ATP's Airline Career Pilot Program will be able to start training with zero experience at Brackett Field and graduate with their commercial multi-engine pilot and flight instructor certificates in just seven months. Over 35 airline partnerships provide them with an accelerated pathway to every major U.S. airline.
"Not only does the new training center bring ATP's proven fast track Airline Career Pilot Program to greater Los Angeles, but it also connects aspiring pilots in the area to resources only ATP can offer," said Michael Arnold, Vice President of Marketing, ATP Flight School. "Students at Brackett Field will gain access to real-time flight monitoring from ATP's Flight Operations Quality Assurance team, a safety-focused dispatch-ready fleet maintained by ATP's Tech Ops, proprietary airline-oriented training materials from ATP's Flight Standards and Curriculum Development team, and a career services team that has placed over 1,100 graduates at the airlines in the last 12 months."
On Friday, July 21, ATP is hosting a grand opening celebration for over 300 prospective airline pilots in partnership with SkyWest Airlines, who is currently offering ATP graduates $17,500 in airline-sponsored tuition reimbursement. Students will be able to learn about pathways to American and United through Envoy Air and Aviate, and how they can go direct to Airbus or Boeing first officer through partnerships with Avelo, Frontier Airlines, Spirit Airlines, and Sun Country.
To schedule a facility tour or learn more about ATP's admissions process and becoming an airline pilot, call ATP Admissions at 904-595-7950.
About ATP Flight School
ATP is the nation's largest flight school, providing students with the most efficient path to a successful airline pilot career. For over 35 years, ATP has been the leader in professional flight training and supplying pilots to airlines. atpflightschool.com
About the Airline Career Pilot Program
ATP's fast-track, fixed-cost Airline Career Pilot Program takes students from zero experience to commercial multi-engine pilots and flight instructors (CFI, CFII, MEI) in seven months. Offered at 83 locations nationwide, students gain the competitive edge with airline-oriented training, nationally awarded flight instructors, new aircraft, dedicated training and career support, airline-sponsored tuition reimbursement, airline direct programs, and access to 38 hiring partnerships. Airlines hire more Airline Career Pilot Program graduates than from any other flight school. atpflightschool.com/acpp
Source: ATP Flight School