ATF: Fifth in Population, Thirty-Third in Size, But Can Pennsylvania Really Be the Worst State for Student Loans?
Press Release
-
updated: Nov 22, 2018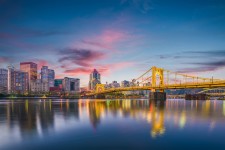 ROHNERT PARK, Calif., November 22, 2018 (Newswire.com) - With 50 states in our country, of course one of them is going to rank the worst in a few categories. The worst may depend on who is asked, and those that live in the mentioned state may have a slightly biased opinion. Ameritech Financial, a document preparation service company that works with struggling student loan borrowers, say "the worst" will always change based on what angle is being looked at. But an editorial piece written by a Pennsylvania local goes on about why Pennsylvania is the worst state when it comes to student loan problems.
"Every state has problems on some level, and that includes how colleges and funding interact with college attendees. States with larger populations are going to have more problems because it's hard to get more cohesive work done when there are many parts," said Tom Knickerbocker, executive vice president of Ameritech Financial.
The average graduate in Pennsylvania has about $36,000 in student loans. With a student loan amount matching the average salary, that's a heavy burden to bear. Having the kind of loan amount to repay heavily limits how much that borrower can participate in the economy. Not being able to save up, buy a house, a new car or afford replacements of much truly limits not just the local and national economy but the borrowers' quality of life. The editorial went on to place much of the blame on state officials, saying the continual cutting and freezing of state funding for colleges resulted in shifting the financial responsibility onto students and parents. Auditor General Eugene DePasquale has acknowledged that there is a problem with funding, but is worried about colleges taking the received funding and spending it on flashy attractions to encourage students to attend rather than working on funding a quality education for students.
The student loan debt crisis that the country is currently facing is going to take many groups working together and a fair amount of time. But borrowers currently struggling in the face of repayment don't have time to wait for things to get better. Ameritech Financial may be able to help qualified student loan borrowers better their situation by helping them apply for federal income-driven repayment programs. These programs can potentially lower monthly payments and get a borrower on track for student loan forgiveness after 20-25 years of being in the program. "We believe student loan repayment shouldn't have to be a struggle. That's why we're so dedicated to helping our clients and being a student loan advocate," said Knickerbocker.
About Ameritech Financial
Ameritech Financial is a private company located in Rohnert Park, California. Ameritech Financial has already helped thousands of consumers with financial analysis and student loan document preparation to apply for federal student loan repayment programs offered through the Department of Education.
Each Ameritech Financial telephone representative has received the Certified Student Loan Professional certification through the International Association of Professional Debt Arbitrators (IAPDA).
Ameritech Financial prides itself on its exceptional customer service.
Contact
To learn more about Ameritech Financial, please contact:
Ameritech Financial
5789 State Farm Drive #265
​Rohnert Park, CA 94928
1-800-792-8621
​media@ameritechfinancial.com
Source: Ameritech Financial
Share:
---
Categories: Financial News, Financing and Student Loans
Tags: auditor general Eugene Pasquale, income-driven repayment, Pennsylvania, student debt, student loan repayment, student loans, worst student loans
---