Astera Software Unveils Its Data Virtualization Solution for Enhanced Enterprise-Wide Data Accessibility
Astera Software has added a new data virtualization solution to its line of data technologies, offering enhanced data accessibility, robust security, and faster data delivery to enterprise-wide users.
Press Release
-
updated: Jul 9, 2019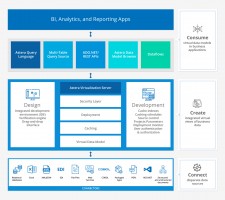 WESTLAKE VILLAGE, Calif., July 9, 2019 (Newswire.com) - ​​Extending the capabilities of its flagship product, Astera Software has recently announced the launch of Astera Data Virtualization. The new data virtualization solution simplifies data integration and offers unified, faster access to dispersed enterprise systems, improving scalability, performance, and agility of data management and BI processes.
Data-driven enterprises with globally distributed business units require uninterrupted access to real-time data. But with critical data trapped and siloed into enterprise systems and databases, traditional data integration methods fall short to deliver actionable information in an agile manner. Astera Data Virtualization meticulously resolves this problem by offering lean integration, for accelerated data delivery, to consuming applications and users.
Talking about the impetus for engineering Astera Data Virtualization, Jay Mishra, COO of Astera Software, said:
"Typically, organizations have two types of data users – developers and consumers. Developers create workflows to prepare data for consumers through data extraction, integration, and profiling tasks. Consumers are business users and applications that use integrated information assets for reporting, analytics, data warehousing, and other applications. Each type of user wants to focus on their part with minimal involvement from the other. Through Astera Data Virtualization, we have addressed this separation of concerns successfully." 
Astera Data Virtualization features a highly intuitive, drag-and-drop environment to design and deploy virtual data models within minutes, saving developer resources. With features like source data caching, entity relationships, indexing, parameterization, and more, users can experience unparalleled query processing performance and rapidly create 360° views of fragmented data from heterogeneous sources. 
Continuing how Astera Data Virtualization caters to the individual needs of developers and business users, Jay explained: 
"Developers can quickly create unified, virtual views of source data using virtual data models and expose them to consumers in any desired data format and type through Astera Data Model Engine and REST web services. On the other hand, consumers can focus on utilizing the integrated datasets for reporting and analytics, without having to know about compatibility and technical nuances of behind-the-scenes data processes." 
Astera Data Virtualization empowers security and data governance through centralized access control, a bearer-token authentication engine, and encrypted client-server communication via SSL protocols. Using the comprehensive user management interface, administrators can specify user roles, and define the rights and permissions for scheduling, executing, and redeploying virtualization jobs.  
The solution also offers native connectivity to a wide range of on-premises databases, file formats, in-memory formats, and private and public cloud databases. To enable self-service BI and analytics, users can leverage the product's out-of-the-box connectivity with business intelligence tools, such as Tableau and PowerBI. 
Find more information about the capabilities and features of Astera Data Virtualization in the solution brief. 
Source: Astera Software
---
Categories: System and Data Integration
Tags: data integration, Data management, data virtualization
---