ASTA-USA Translation Services, Inc. Becomes NALS's New Affinity Partner
Press Release
•
Mar 23, 2023
National Association for Legal Support Professionals will be able to access ASTA-USA's expert language translation resources.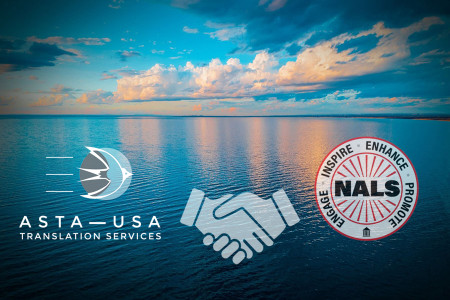 DALLAS, March 23, 2023 (Newswire.com) - ASTA-USA is proud to announce its new partnership with the National Association for Legal Support Professionals (NALS).
Through the new partnership, NALS members are assigned a dedicated Project Manager and translation teams that integrate seamlessly and function as an extension of their own organization.
In addition to having a dedicated account specialist assigned to their account, NALS members will also receive special benefits on high-volume and critical projects.
"Every day, U.S. leading law firms, corporations, and governments of all sizes depend on us to translate their important written documents and materials," ASTA-USA Founder Alain J. Roy said. "They continually partner with us because of our reliability, accuracy, professional standards, and timeliness."
Collaborating with ASTA-USA Translation Services, Inc. fulfills a need as there are plenty of translation services out there, but legal professionals have unique needs when it comes to language services.
"We can take any written material, whether legal, scientific, or technical, and translate it into or from over 70 languages," Roy said.
While it is crucial that service providers speak multiple languages to translate materials from one language to another, they must also understand the complexities and nuances of the legal industry.
"Because ASTA-USA's translators are also attorneys, they follow the ABA Model Rules of Professional Conduct and can curate these translations quickly to meet pressing legal deadlines without sacrificing quality," Amanda S. Bureau, Executive Director at NALS said. "Confidentiality, expertise, and a fast turnaround are all essential to legal professionals."
About ASTA-USA Translation Services, Inc.
Every day, corporations and governments of all sizes rely on the expertise of ASTA-USA to translate their important written materials, and to provide real-time, live, human interpreting services. ASTA-USA offers premium translations in more than 70 languages for a variety of industries. Headquartered in Cheyenne, Wyoming, ASTA-USA's Translation Directors, and Professional Translation Teams are based all over the United States, Canada, the United Kingdom, the Middle East, Asia, South America, Latin America, and Africa.
To learn more about ASTA-USA Translation Services, Inc., visit www.asta-usa.com.
About NALS:
Established in 1929 by Eula Mae Jett, NALS was incorporated as the National Association of Legal Secretaries in 1949 and renamed the National Association for Legal Support Professionals in 2021. For over 90 years, NALS has been a leader in the legal services industry offering continuing legal education, certifications, and networking to legal support professionals across the country. NALS members represent every area of this industry from paralegals and legal assistants to legal administrators and office managers. Because of this diversity and an openness to welcome all members of the industry, NALS offers a broad spectrum of expertise to make the programs offered valuable to all members of the legal services industry. Learn more at http://www.nals.org.
Source: ASTA-USA Translation Services, Inc.