AST Announces Strong Results From First-Ever Industry Patent Purchase Program, IP3
Press Release
•
Oct 26, 2016
Results Validate the IP3 Model - Fixed Price, No Negotiated Pricing Deals Benefit Buyers and Sellers Alike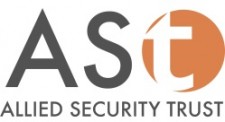 Princeton, NJ, October 26, 2016 (Newswire.com) - AST, the leading provider of proactive patent defense solutions, today announced strong results from its popular Industry Patent Purchase Program (IP3). Launched this past May, IP3 was a first of its kind industry program designed to give sellers an easy way to access the secondary market by streamlining the process of selling patents with a fixed price, rapid response model. IP3 attracted strong interest from buyers and sellers, and results indicate a desire for more innovative solutions like IP3 in the future.
21 of the world's largest companies participated in IP3 including Google, Facebook, IBM, Microsoft, Adobe, SAP, Ford, Honda, Verizon, Cisco, Arris and 10 other multinational companies including leading cable service providers. Sellers submitted families of patents at prices that they set, and participants reviewed the submissions and determined whether to bid. Of the 21 companies participating in IP3, 15 were AST Members and six were non-AST companies.
"IP3 was successful on a number of fronts, and showed a real appetite from sellers and buyers alike for a fixed price, timed response program," said Russell W. Binns, Jr., CEO of AST. "IP3 showed us that fixed price, no negotiation deals work well and offer a faster, more efficient way to purchase assets from sellers at competitive prices. While sellers tended to offer their patent families for sale at lower prices in a name your price format, our data showed that these assets sold at the same average price as they do in negotiated deals. AST's principal objective is to provide transparent and enhanced risk mitigation services that ultimately help the patent markets operate more efficiently, and by creating a more efficient, streamlined process, IP3 helped us advance this goal."
Binns added: "It is my view that programs like IP3 are particularly well suited to an organization like AST, given our non-profit structure and commitment to providing full transparency around patent transactions. Further, because we're not motivated by profit, we are able to use the data and learnings from IP3 to benefit our Members, the IP3 participants and the patent marketplace generally."
Below are IP3 results highlights. A more detailed results summary can be found here.
Results Overview
Sellers and brokers were invited to submit their assets at the IP3 website from May 25 - June 10.
1,378 total deals were submitted by 434 patent owners;
More than 90% of sellers had previously participated in the secondary market, which means that IP3 attracted experienced, sophisticated sellers;
IP3 made 56 offers to purchase comprising 107 active patent filings:

86 US Patents
17 US Applications
2 Great Britain, 1 Germany and 1 French Patents

Average price per family of patents was approximately $96,000, and the median price was $100,000
"IP3 resulted in a significant number of transactions which indicates what we believe is a pent-up market demand from both a seller and buyer perspective," added Binns. "It also reflects the fact that this format enables buyers to make acquisition decisions more quickly and with greater confidence by allowing the participants to collaborate and crowdsource their decision making."
Industry Sector Breakdown
Sellers submitted patent families from across seven different industry sectors. Of these, the most patents submitted (596) and purchased deals (43) were from the computers and software industries. Computers and software also had the lowest average and median purchase price, $75,000 reflecting the larger supply of computers and software patents on the secondary market, which far exceeds that of any other category of assets.
Participants purchased patent families from the communications sector at a higher rate than any other industry sector. Financial Services had the highest average purchase price, $158,745, but only amounted to two deals.
SUBMISSIONS BY CATEGORY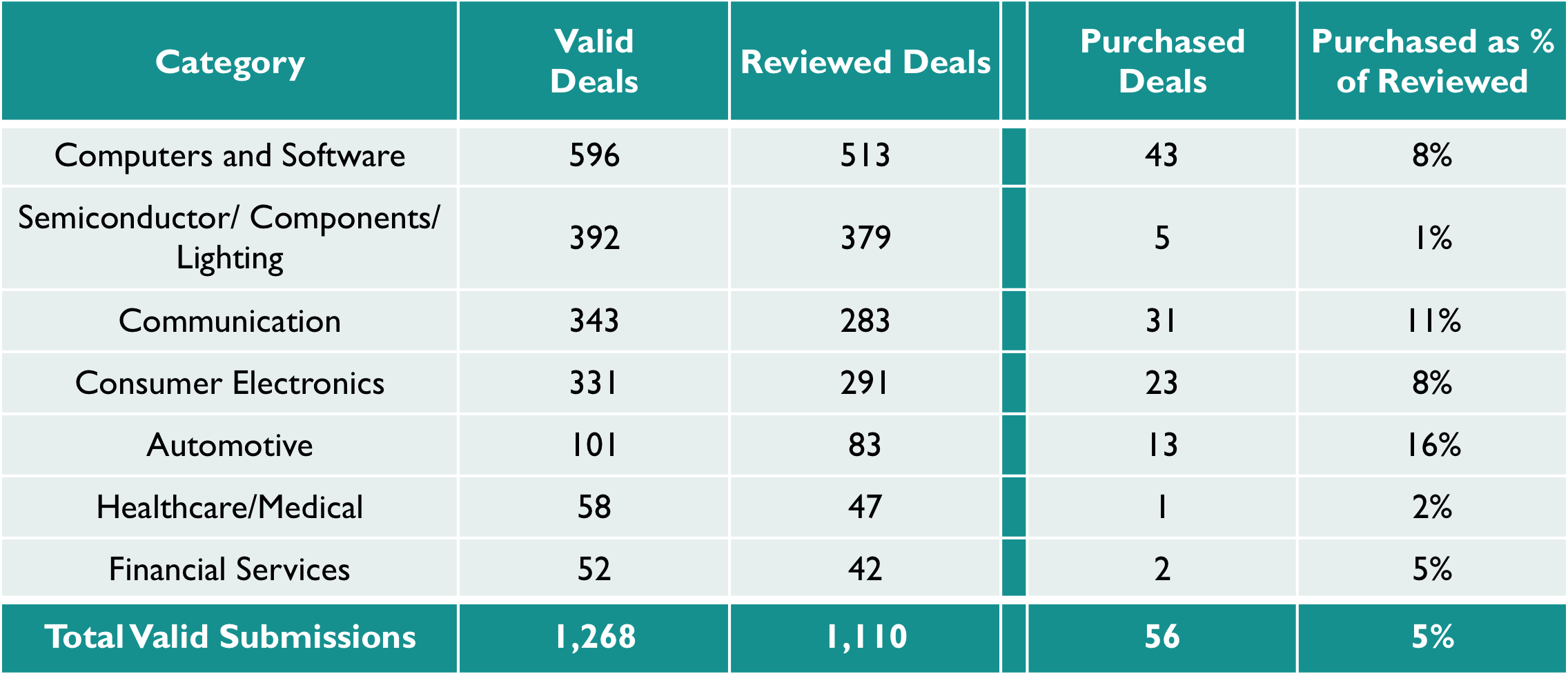 PURCHASE PRICE BY TECHNOLOGY CATEGORY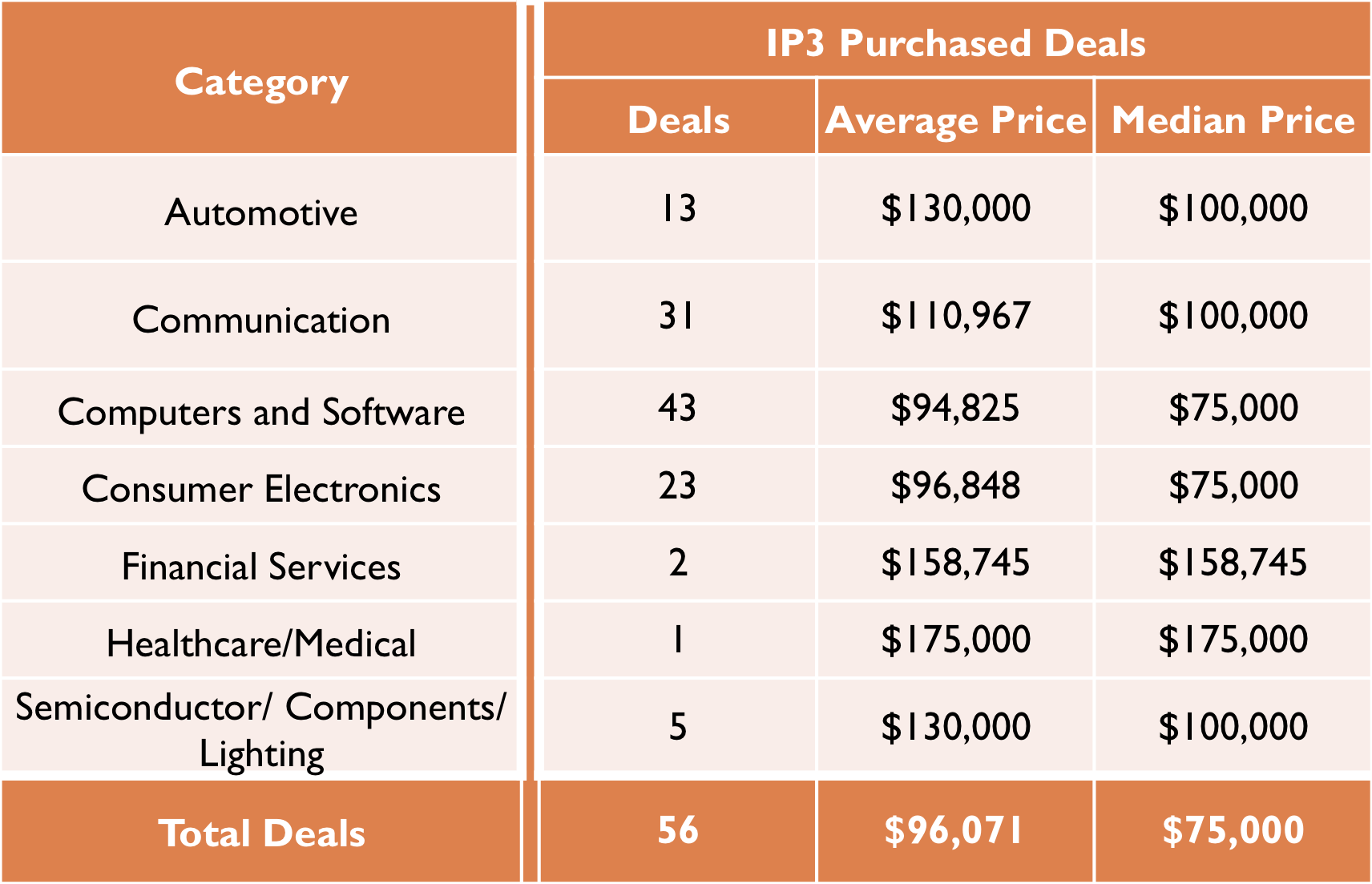 Collaborative Process Benefited Participants
IP3 benefited from a significant amount of collaboration among the participating companies, as cited by several companies in surveys conducted following the completion of IP3. Multiple participants recognized early on in the process the added benefit of having more companies participating from their particular sector, and actively recruited similarly situated companies to provide more group thinking around the decision making process.
"Participating companies consistently cited the collaborative process as one of the biggest benefits of the name your price format and said that it led to faster and better decision-making, with several companies adding that they even found the process fun and enjoyable," said Binns.
About AST
AST is the leading provider of proactive patent defense solutions. We offer a highly efficient, cost-effective and proven method of mitigating the risk of patent assertions and litigation by enabling our Members to collectively purchase assets available on the open market. Because we are an independent, not-for-profit cooperative, we provide a trusted and fully transparent way for Members to analyze patent purchase opportunities including triage, evaluation and acquisition services. AST's Members currently include top global companies from a wide-range of industries including ARM, Avaya, Ford, Google, Honda, IBM, Intel, Microsoft, Oracle, Philips, and Sony. For more information on AST please visit http://www.ast.com.
Press Contact:
Cindy Stoller
FeverPress
cindy@feverpress.com
917-331-0418
###
Source: AST
Related Media