Association for Pediatric Vision Announces a Free Vision Screening Training Offered Nationwide
Press Release
•
Aug 21, 2023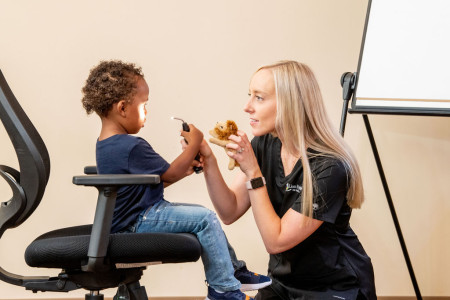 TAMPA, Fla., August 21, 2023 (Newswire.com) - The Association for Pediatric Vision, a program of Lions World Vision Institute is excited to announce the launch of their newly created and designed vision screening curriculum, which will be offered for free to anyone interested in learning more about how to become a vision screener, especially for the screening of infants and youth ages 0 to 5 years. This curriculum was developed with federal grant funding and was created to bring awareness to the lack of vision screening offered to infants, toddlers, and children who are beginning their primary education in elementary schools across the country.
Dr. Melissa Z. Petro, Association for Pediatric Vision's Program Director, states, "Early vision screening can help identify potential problems with sight skills by detecting vision challenges that may hinder development and negatively affect social and emotional well-being. A pediatric optometrist or ophthalmologist can perform an eye exam, however, early screening by community professionals such as teachers, nurses, and even parents can help with early detection of vision challenges such as amblyopia, strabismus, and refractive errors that may cause visual development delays and affect a child's quality of life."
Early screening is not available for some communities. Caregivers can find greater success in identifying vision issues with a standardized vision screening training program and become certified to conduct vision screening for young children. Association for Pediatric Vision (APV), is providing this certification for caregivers and other healthcare providers. The cost for certification is $99 for the five-module training. The training itself is completely free, but to become certified there is a fee. It is designed to walk a participant through vision background knowledge and screening essentials so screeners can provide the most accurate and up-to-date vision screening possible for children. To take advantage of this free five-hour vision screening course, participants can go to this link and sign up to take the course today. https://docs.google.com/forms/d/1OcqRAoxsxN3_UWUPEojVGXss3yi1AHUu50i75el9dRE/edit
Dr. Petro predicts over 50 persons will be trained with this vision screening course this fall and hopes the awareness for the need for this service will grow along with the organization's growth. "Vision is a strong predictor of academic performance in children, yet, one in four children have an undiagnosed vision problem." Dr. Petro and her team aim to change this disparity one screening at a time.
Lions World Vision Institute, based in Tampa Bay, Florida, is a nonprofit organization with international reach committed to honoring vision as a basic human right. Lions World Vision Institute offers a broad worldwide network of eye banks, physicians, researchers, and community-based services to exponentially increase impact and restore sight for more than 20,000 men, women, and children every year who needlessly suffer from corneal blindness or low vision. Visit the organization's website at this link: https://lwvi.org/.
Source: Association for Pediatric Vision