Assisted Home Health & Hospice Honors Veteran Roger Dawson With Pinning Ceremony
Press Release
•
Aug 14, 2023
We Honor Veterans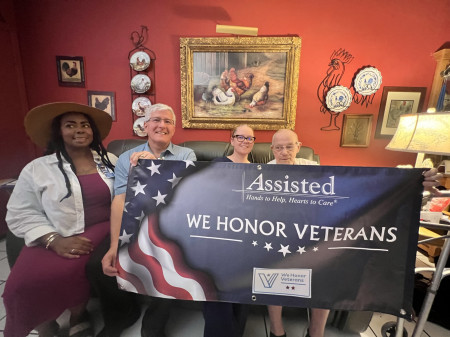 THOUSAND OAKS, Calif., August 14, 2023 (Newswire.com) - Assisted Hospice Care in Phoenix, Arizona, celebrated the remarkable life and service of Veteran Army Specialist Mr. Roger Dawson (SP4 E-4) with a heartwarming We Honor Veterans Pinning Party. Mr. Dawson, a sharpshooter during his two enlistments, was stationed in Oahu starting in 1959. The event featured his love for country music, karaoke and his talent as a prolific music writer.
During the party, Mr. Dawson sang a song he co-wrote in 1991, titled "From the Bottom of My Glass," recorded in Nashville with a studio band. Despite losing his wife two years ago, he cherishes her memory through photos and her extensive collection of roosters in the home they created together.
The Assisted Hospice team was deeply honored to recognize Mr. Dawson's service, listen to his stories, and enjoy his music. As a We Honor Veterans partner, Assisted Hospice Care remains committed to providing comprehensive care and support to veterans like Mr. Dawson, ensuring they receive the respect and gratitude they deserve for their service to our nation.
We Honor Veterans is a program in partnership with the National Hospice and Palliative Care Organization (NHPCO) and the Department of Veterans Affairs (VA). The program aims to recognize and support veterans at the end of life by providing specialized care that addresses their unique needs, experiences, and sacrifices.
About Assisted Hospice Care:
Assisted Hospice Care is a leading compassionate home health and hospice service provider in the Los Angeles, CA, and Phoenix, AZ, metropolitan areas. Their dedicated team strives to make a meaningful difference in the lives of patients and families through personalized care and unwavering support.
Source: Assisted Home Health & Hospice
Related Media