Assemblers and Machinists - Corning is Hiring in Glendale!
We're proud to announce that Corning is expanding operations at our Glendale, AZ plant. We're hiring right now for entry-level assemblers and two grades of experienced machinists. This is your opportunity to join one of the world's leading innovators in materials science.
Press Release
-
updated: Jan 23, 2020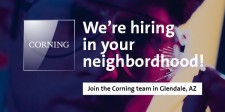 GLENDALE, Ariz., January 23, 2020 (Newswire.com) - Assemblers mass-produce a variety of small to microscopic products, use hand or power presses and other machines, and perform final inspection work. You'll need a high school diploma or GED, sharp eyes, and nimble hands for assembling small and microscopic parts.
The MACHINIST III role sets up, operates, and troubleshoots CNC operations. Operations include things like turning, drilling, reaming, and threading. You'll also handle quality inspection, routine maintenance on CNC equipment, and training less-skilled operators. For this job, you'll need a high school diploma and 5+ years set-up experience.
The MACHINIST IV position is perfect for more experienced machinists. You'll handle set-up, operation, troubleshooting, quality control and maintenance without assistance. And while the Machinist III helps less-experienced operators, you'll work with department supervisors to identify and handle issues. This role calls for a 2-year technical college education or equivalent proven experience and 7+ years set-up experience.
For more than 160 years, Corning has applied our unparalleled expertise in specialty glass, ceramics, and optical physics to create products that transform people's lives. As part of our Optical Communications segment, you'll help us deliver the cutting-edge parts that power video, data, and voice communications.
To apply today, go to:
Source: Corning Inc
Share:
---
Categories: Production and Manufacturing
Tags: career advancement, cnc setup machinist, corning inc, employment opportunities, employment opportunities arizona, hot jobs for 2020, jobs at Corning Inc, jobs near me, machinist jobs near me
---
Related Files
Additional Links