Ashton Whiteley Reports British Consumer Spending at Worst in 4 Years
Ashton Whiteley: Effects of 2016 Brexit vote reach UK households as consumer spending continues to decline.
Press Release
-
updated: Aug 15, 2017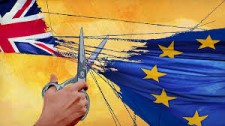 Shanghai, China, August 15, 2017 (Newswire.com) - Ashton Whiteley: According to recently published data, UK consumer spending dropped for the third consecutive month last month in what is the most prolonged decline since 2013.
Market analysts at Shanghai, China-based investment house Ashton Whiteley, say that this prolonged period of decline in consumer spending is yet another sign that the effects of the Brexit vote are impacting on consumer households.
According to a recent report by Ashton Whiteley, general consumer spending, the backbone of the UK economy, fell by 0.8 percent in July compared with a year previously. A speedier decline than June's drop of 0.2 percent and, on the heels of an additional drop in May, July's fall in consumer spending marks the longest running decline in more than four years. Similarly, in February 2013, consumer spending dropped as a fragile economy battled to come back from the global financial crisis.
Ashton Whiteley analysts are of the opinion that the figures offer additional proof that inflated prices and lack of salary growth are having a decidedly negative effect on household spending capacity.
Following a downgraded forecast for economic growth by the BoE for both 2017 and 2018, the data corresponds with other indications that the average British home is feeling the squeeze. Retail sales have fallen along with mortgage approvals and new car registrations in recent months.
A drop in the value of the British pound since the Brexit referendum in June 2016 has spurred inflation while salary growth stagnates, placing pressure on household incomes. As a result, consumer confidence is currently at a one year low.
__  __  __  __  __
Contact - Market Watch Asia - 128 Chaoyang Park S Rd, Chaoyang Qu, Beijing Shi, China. media@marketwatch-asia.com
Source: Ashton Whiteley
Share:
---
Categories: Economy, Business Finance, Consumer Banking
Tags: Ashton Whiteley, AshtonWhiteley, brexit, consumer, economy, spending
---