Ashton Whiteley: Japan's Export Growth Declines
Press Release
•
updated: Oct 20, 2017
Slower growth in Japan's exports does not spell trouble for the world's third largest economy, according to analysts at Ashton Whiteley.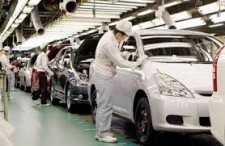 SHANGHAI, China, October 20, 2017 (Newswire.com) - According to official data released last week, Japan's export growth pace decreased last month for the first time in three months. Analysts at Shanghai, China-based investment house Ashton Whiteley believe that this is an indication that foreign demand for goods from the Japanese economy may be lessening.
The 14.1 percent year-on-year increase in exports was lower than the median forecast for a 14.9 percent increase and was less than an 18.1 percent increase from 2 months ago, the fastest growth in close to four years.
Ashton Whiteley economists anticipate that Japan's exports will begin to grow at an accelerated pace as demand for goods increases leading up to the year-end festive shopping season. They believe that the weak yen will contribute to Japan's export competitiveness and will bolster economic growth.
An economist at Ashton Whiteley stated that the current slowdown was more than likely a temporary issue.
Official data gauging production activity in foreign economies revealed that the global economy is currently in an expansionary phase, supporting the notion that exports will continue to boost Japan's economic growth.
While data from other Asian economies reveals that demand for TVs and audio equipment remains solid, Japanese exports were affected by a decline in shipments of electronics in September.
According to data from Japan's finance ministry, exports in September for the world's third largest economy also declined due to slower growth in shipments of motor vehicles and semiconductors.
Technology manufacturing economies in Asia have benefited this year from greater global demand for components like semiconductors and electronics products.
Contact - Market Watch Asia - 128 Chaoyang Park S Rd, Chaoyang Qu, Beijing Shi, China. media@marketwatch-asia.com
Source: Ashton Whiteley