ASCENDtials Partners With James Crawford on Advancing Knowledge of Self in Black Education
Press Release
•
updated: Aug 11, 2021
Our inaugural speaker for the KOS-Melanin-ology™ lunch sessions is James Crawford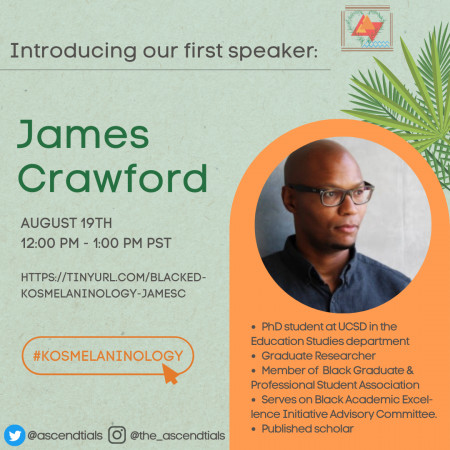 SAN DIEGO, July 29, 2021 (Newswire.com) - ASCENDtials today announced a new collaboration with James Crawford, a fourth-year Ph.D. student in the Education Studies department at UCSD. This collaboration will be for ASCENDtials inaugural KOS-Melanin-ology™ lunch sessions launch, August 19, 2021, and will be an interactive discussion about the importance of advancing knowledge of self in Black education.
Two quotes that come to mind when thinking about the struggle Blacks face in a dialectical system of White/Black and/or Oppressor/Oppressed, is that it doesn't allow for a complete, free, human experience and is limiting and dehumanizing. Though we live amongst functions that operate in this way, it would be unwise to base a structural system this way, in which humans create and experience in such a limiting way. So, it is necessary to learn to Know Thyself and Melanin.
Remember that "As Above, So Below"- African Proverb. What nature shows us is clearly how we must operate.
And should we choose to deny what nature shows, we aren't truly ourselves, but we are an approximation. And "An Approximation is a lesser form of Equality" - African Creation Energy.
"It's time to activate melanin in our educational system, so that true problem-solving is known, and that we place a real emphasis on thinking critically about Equality and structures in place that impede this progress, as an approximation will not do." - Mika Marzette
The benefits of this new partnership include:
New collaboration with our inaugural speaker for our lunch sessions.
Brings widespread attention and awareness to Melanin and its benefits in the fight for equality.
Makes problem-solving a priority for those with the highest concentrations of melanin.
Way of thinking pulls from an ancient African "way of life" based on science that embraces freedom, creativity, balance, and helps sustain growth.
Engages more people in the social transformative/justice movement.
Builds critical consciousness around Knowledge of Self.
Promotes understanding of KOS-Melanin-ology™ and its purpose of a humanizing experience for all.
About ASCENDtials: a 501(c)(3) nonprofit organization specializing in Critical Consciousness, by providing thoughtful holistic educative tools, resources, and training programs that prepare, are preventative, instill, and reinforce a deeper appreciation for self and community, a oneness that builds capacity, and environmental care.
About James Crawford: James Crawford is a fourth-year Ph.D. student in the Education Studies department at UCSD. He has extensive experience in education consulting and capacity-building to center the voices and academic supports for Students of Color. Currently, James is the Graduate Researcher for the UCSD Black Studies Project, a principal member of the Black Graduate and Professional Student Association, and also serves on the Black Academic Excellence Initiative Advisory Committee. He is a published scholar with research interests including Black critical theory, critical media analysis, and culturally responsive pedagogies and curricula to help transform education systems and outcomes.
Source: ASCENDtials